Chief's Information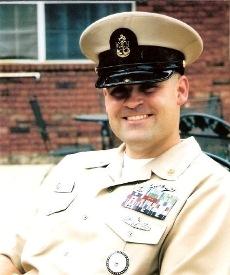 Phone: 281-634-2273
Email:
Degrees and Certifications:
Associates Degree in Science from Excelsior College National Defense Authorization Act Advanced Instructor Certification JROTC Marksmanship Instructor Certfication Title 10 Naval Science Instructor Certification
Chief Jason Gorsuch

A native of Sugar Land, Texas, Chief Gorsuch enlisted in the Navy in 1993 and attended Recruit Training in San Diego, California. Following Seaman Apprenticeship training, he reported to USS Stump (DD-978) home ported in Norfolk, Virginia where he completed one UNITAS XXXV deployment to South America.

During his tour on Stump he was selected to attend Signalman "A" School. Following signalman training, he reported to USS Chosin (CG-65) home ported in Pearl Harbor, Hawaii where he completed one Western Pacific deployment. After his tour on board USS Chosin, he was selected to attend Cryptologic Technician Collections school in Pensacola, Florida

Chief Gorsuch's follow-on sea duty assignments included a Direct Support tour, where he was temporarily assigned to the submarines USS Minneapolis-St Paul (SSN 708), USS Toledo (SSN-769), USS Newport News (SSN-750), USS Hampton (SSN-767), USS Oklahoma City (SSN-723) and the USS Memphis (SSN-691). He was also assigned to the USS John C. Stennis (CVN-74) and the USS Decatur (DDG-73) completing numerous missions vital to national security and in direct support of the Global War on Terror.

Ashore, Chief Gorsuch served as Intelligence Analyst for the Combined Forces Command-Afghanistan, Target Action Officer for the National Security Agency and as a Recruiter-in-Charge for Navy Recruiting Station Baybrook at NRD Houston.

Chief Gorsuch was honorably discharged from the United States Navy October 2013 after 20 years of service. He is Surface Warfare, Air Warfare and Submarines qualified and entitled to wear the Joint Commendation Medal (two awards), Joint Service Achievement Medal, Navy Achievement Medal (five awards) and various unit and campaign awards.
Chief's Schedule
1st Period (7:30 - 8:20am)–NJROTC I, II, III

2nd Period (8:25 - 9:15am)–NJROTC I, II, III

3rd Period (9:20 - 10:15am)–NJROTC I, II, III

4th Period (10:20 - 11:10am)–Conference

5th Period (11:15am - 12:05pm)–PLC

Lunch (12:05 - 12:55pm)

6th Period (1:00 - 1:50pm)–NJROTC II/III/IV

7th Period (1:55 - 2:45pm)–NJROTC IV
Chief's Tutorial Schedule
Tutorial 1

: Tuesday 7:00-7:20am

Tutorial 2

: Thursday 7:00-7:20am