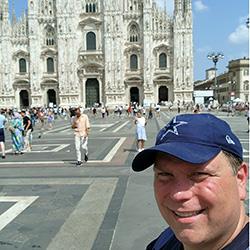 Phone: 2816342150
Email:
Degrees and Certifications:
Stephen F. Austin State University: Bachelors of Business Administration Certifications: Technology Education Journalism Technology Applications Secondary Business Composite
Mr.

David Clayton

I began my journey as a certified teacher in Crosby, TX at Crosby High School in 2004, where I taught business and technology courses for three years. In 2007, I moved to Robert E. Lee High School in Baytown, TX, where I cultivated the development of the district career and technology curriculum and taught Audio/Video Technology, Commercial Photography,
Digital Graphics and Animation, Web Design, Journalism, and Yearbook. I enjoyed helping students produce campus videos, publications and projects, including Robert E. Lee's first and second school Lip Dubs in 2014 and 2015. I was also a member of the team that produced the school's successful application as an Apple Distinguished School in 2015. In 2016, my family moved to Livingston, TX, where I taught Photojournalism, Commercial Photography, Graphic Design and Yearbook. Livingston High School had great students, teachers and campus administrators but my wife, who is in school administration, received an outstanding offer, from Angleton ISD in 2017, so we said goodbye to Livingston and moved to Pearland, TX, where I began my search for the perfect school to continue teaching. I obviously applied immediately when I saw that Clements High School had an opening and I was honored to be selected to teach in the successful journalism program here. I feel fortunate to be here and I know that the students and I are going to do outstanding things together.
Period 1: Photojournalism

Period 2: Journalism I

Period 3: Broadcast Journalism/CTV

Period 4: Broadcast Journalism/CTV

Period 5: Newspaper Journalism/CTV

Period 6: Conference

Period 7: Photojournalism
Tutorials: Monday, Wednesday and Thursday 3:00 p.m. - 3:30 p.m.

The 1st Wednesday of each month, I am unavailable for tutorials due to the campus faculty meeting.

I am usually in my room every day after school until 4 p.m. so students should have no problem finding me for tutorials.

Clubs:

Quill and Scroll

Clements Filmmakers Club

Hindu Student Association

UIL Journalism Coach

Copy Editing

News Writing

Feature Writing

Editorial Writing

Headline Writing