Teacher Information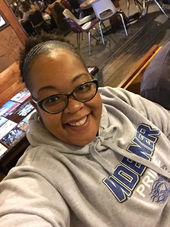 Phone: (281) 634-7216
Email:
Degrees and Certifications:
Bachelor of Science Degree in Accounting Minor Concentration in Management Information Systems Certified Texas Mathematics Teacher 7-12
Mrs.

Michele Lytle

I was born and raised in the suburbs of the Philadelphia area (Delaware County) in Pennsylvania. Prior to graduating from college, I was a congressional intern for the Washington Center, in 1994, and worked for Georgia Congressman Standford Bishop. I earned a degree in Accounting from Widener University, Chester, Pennsylvania in 1995. My first job out of college was with C-SPAN, Washington, D.C., where I worked as a staff accountant. As I progressed in my business career, I worked for four years as a financial analyst. I enjoyed the financial gains working in corporate America; however, it was not for me. I began substitute teaching in January 2000, in the School District of Philadelphia. There, I fell in love with teaching and a found a passion for supporting and uplifting inner-city youth. I taught in Philadelphia from 2000-2007, teaching all HS math subjects (Pre-Alg, Alg I, Alg II, Geometry, Pre-Calc, Discrete Math, PSSA Test Prep, and SAT Prep). In 2011, I landed a job with Camelot Education as a 7th and 8th grade mathematics and science teacher. The Camelot schools partner with school districts across the country, providing behavioral and academic support to students who violate the district's code of student conduct. In 2012, I was promoted to an Instructional Coach and was a member of Camelot's Start-Up School Implementation Team. I was instrumental in the start-up and opening four Camelot alternative education programs in New Jersey and Texas. In 2013, I relocated to Texas to support the instructional program of Beechnut Academy, within Houston Independent School District (HISD). In March 2017, HISD decided to open and launch their own DAEP, which left of us all to find gainful employment elsewhere. In April 2017, I was hired by Fort Bend ISD! I am a resident of Fort Bend ISD and was excited about the opportunity to be a part of this GREAT school district. I am planning to plant deep roots as I serve the awesome students and families of Fort Bend ISD!
Teacher Schedule
Period 1: AP Statistics

Period 2: AP Statistics

Period 3: Conference Period (Tues & Thurs - Algebra II PLC Meetings)

Period 4: Algebra II

Period 5: Algebra II

Period 6: Algebra II

Period 7: Algebra II

Period 8: Algebra II
Teacher Tutorial Schedule
AM Tutorials - 6:45AM Tuesday, Wednesday & Thursdays

Lunch Tutorials (5th Pd - B Lunch) Monday, Tuesday, Wednesday & Fridays

PM Tutorials - 2:45PM Monday, Tuesday, & Thursday