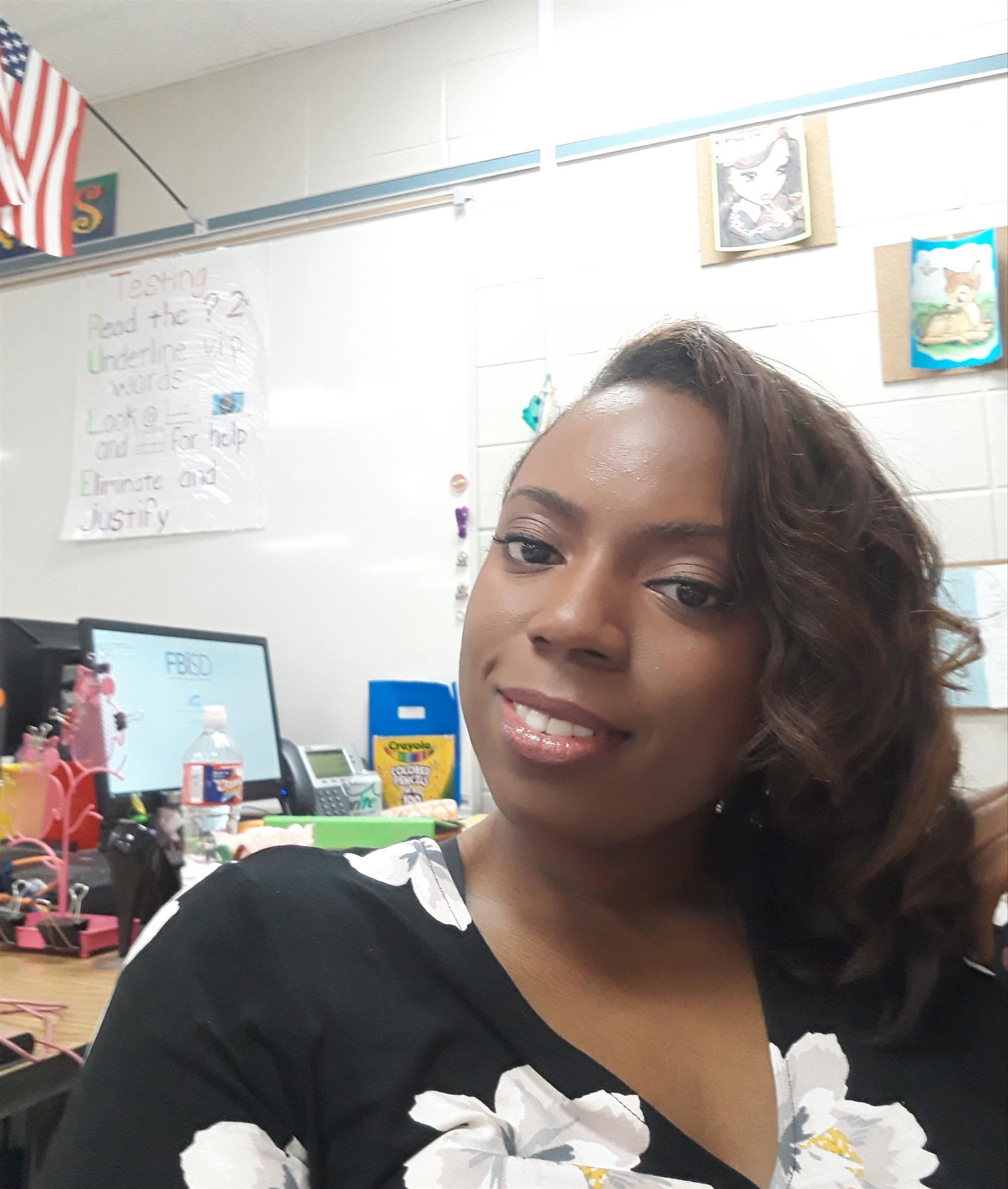 Phone: (281)637-0190
Email:
Degrees and Certifications:
B.S. Interdisciplinary Studies Science Emphasis Grades 6-12 Life Science TEA Certification Grades 4-8 Science TEA Certification Gifted and Talented TEA Endorsement English Second Language TEA Endorsement Region IV Sheltered Instruction Observation Protocol Certification AVID Site Team
Ms.

Danielle Griffin
Although students acquire knowledge in numerous unique ways, every child is capable of learning. I passionately believe that there is a continuous need to disseminate that fact to all children. As a facilitator, I provide a variety of classroom activities to allow each of my pupils to utilize his or her own distinctive methods of learning. I create a warm, welcoming environment in which students can thrive emotionally and academically. Students in my classroom will be empowered to achieve, as well as receive motivation to take responsibility for their own education resulting in continued academic perseverance and excellence. We as teachers should take the stance that we do not know all, and we are merely resources to students along their lifelong educational journey.
My educational philosophy is best described using the words of Dr. Betty Shabazz, "catching the dreams of tomorrow, preparing young men and women for the 21st century." Specifically, I want to augment student scholarship in Science, technology, and assist students with determining their short and long-term goals. America's youth has a continuous need of innovative scientific and technological intelligence. This knowledge will increase opportunities to provide future service to their communities and aid in future applications that will allow students to compete on a global scale as adults. The primary goal of my philosophy and curriculum design is to inspire and equip my students to pursue futures beyond what they can imagine.
Teacher Schedule

Monday, Thursday, and Friday

Period 1: 8:55-9:50 7th Grade Science

Period 2: 9:50-10:45 7th Grade Science

Period 3: 11:25-12:20 7th Grade Science

Period 4: 12:25-1:20 7th Grade Science

Period 5: 1:25-2:20 7th Grade Science

Period 7: 3:20-4:10 7th Grade Science

Tuesday, and Wednesday

Period 1: 8:55-9:45 7th Grade Science

Period 2: 9:50-10:35 7th Grade Science

Period 3: 11:15-12:05 7th Grade Science

Period 4: 12:10-1:00 7th Grade Science

Advisory: 1:05-1:40 7th Grade Science

Period 5: 1:45-2:30 7th Grade Science

Period 7: 3:25-4:10 7th Grade Science
Conference Schedule

Office Hour/Conference Period by appointment (confirmation email required): Tuesday-Thursday 2:40-3:10


**All conferences will be conducted via telephone or MicroSoft Teams App and may also be requested on Tuesday-Thursday 4:15-5:00 pm.

Tutorials: Thursdays 8:20-9:00am