Attendance Boundary Planning Continues
An updated Attendance Boundary Plan was presented to the Board of Trustees at the January 9, 2017 Board Workshop. The Board is scheduled to vote on the proposed boundary options at the January 23 Regular Board Meeting.
Attendance Boundary Presentation (1/09/17)

Background
At the Dec. 12 Board meeting, updated information was presented regarding the attendance boundary planning process based on feedback from previous focus group and community meetings, as well as the survey results (which closed on Dec. 9) and Let's Talk input. The information presented is subject to change, and the Board will also receive an updated boundary plan at the Board Workshop on Jan. 9. On Jan. 23 at the Regular Board Meeting, the Board is scheduled to vote on the proposed boundary options.
Parents, staff and community members are encouraged to continue providing feedback on the attendance boundary process through Let's Talk.
Attendance Boundary Concept Presentation (12/12/16)
Planning Underway to Establish Attendance Boundaries for Four Future Schools
The District hosted two Community Forum meetings to discuss the attendance boundary process and gain community feedback on possible changes that will take place for the 2017-18 school year. While the entire community was invited to attend the meetings, the attendance boundary planning process is limited to 19 schools, which could be impacted by the opening of new schools or the increased capacity created by classroom additions included in the 2014 Bond Program.
Elementary Schools 48, 49, and 50, which were all funded by the 2014 Bond Program, will open in August of 2017, while Middle School 15, which was part of an earlier bond program, will open in August of 2018. All four campuses are located in areas of high growth: Elementary Schools 49 and 50 are located on the Grand Parkway corridor on the District's west side, while Elementary 48 and Middle School 15 are located in Sienna Plantation, in the southeast area of the District.
The following chart defines which campuses may be impacted by the boundary changes.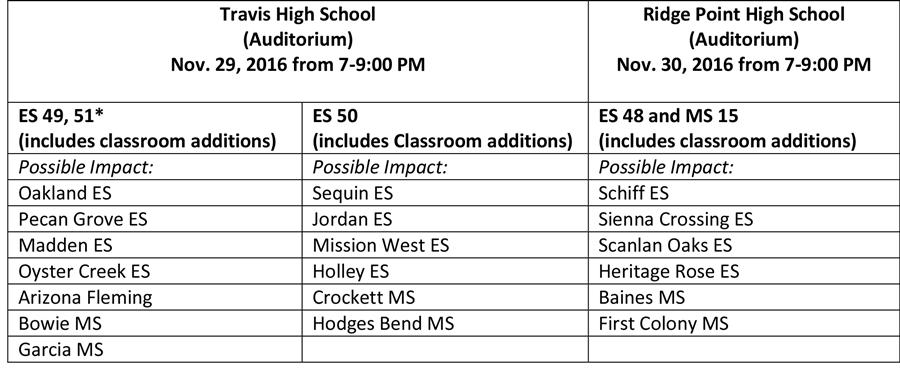 *Discussions may include possible attendance boundaries for Elementary School 51, which is currently in the early planning stages.
FBISD administration, in collaboration with consulting firm DeJONG-RICHTER, previously engaged with focus groups specific to the areas that may be impacted by a boundary change. Discussions from these focus groups formed the boundary options that were presented during the community forum meetings on November 29 and 30, with possible adoption by the Board in January of 2017.