Teacher Information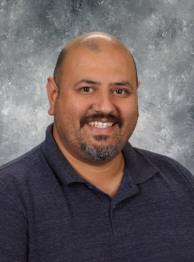 Phone: (281) 634-9476
Email:
Degrees and Certifications:
Southwestern College of Christian Ministries Associates of Arts Business Concentration University of Oklahoma Bachelor's of Science Elementary Education Texas State Board of Education Certification Generalist Grade 4-8 18 Years Public School Service and Training
Mr.

David Adrian Trevino

Being a positive influence to the students that I teach has been the passion of my career in education. I sincerely have a heart for working with and encouraging kids. Whether in the classroom where I have had many successes as a 17-year teaching veteran, or at church where I have volunteered countless hours throughout my life. I truly believe I am doing the job that I was meant to do. I believe in the inclusion of hands-on approaches and cooperative learning activities to maintain a balanced teaching style. I also believe in helping my students develop critical thinking strategies in order to create meaningful learning experiences. Developing relationships has been the key to my success. Paying attention to the needs and concerns of my students is important to me. I make it a priority and own the responsibility of reaching every child and motivating that child to learn. In essence, I create a classroom that students want to be in, and through motivation, I create an attitude of success.

My purpose and calling is, and always will be, to make a difference in our kids' lives. I look for opportunities to make a difference by taking extra time with students who want to talk and develop relationships. I always want them to know that I will be there for them if they ever need me. I do my best to instill in my students that they should expect nothing less than success from themselves. I foster this attitude in my students by building them up as often as I can, by pointing out the positives in their work. I let them know that I am proud of them for wanting to succeed. I challenge them to be confident and creative in their mindset. The understandings that I have developed as a Children's Pastor at Access Church in Alvin, is the realization that sharing your heart and passion for a subject is contagious. Looking back at my career, I would have to say that the greatest pleasure provided to me by teaching is not only having the opportunity to pour into the lives of my students, but knowing that the students do likewise into me. I feel blessed to have a career that can have such a positive effect on my growth as a person. It is an honor to have the opportunity to return the favor by being a positive influence in their lives.

Professional Highlights:
2015 Ashworth Elementary Teacher of the Year Winner
2015 Kiwanis Woodrow Counts – Teacher of the Year - Special Recognition Award Winner
2014 Ashworth Elementary STAAR – 6 out of 6 Distinctions
2014 District Science Textbook Adoption Committee Chair
2012 Assigned to Sally Ride Science Academy San Diego, CA –Arlington District Trainer
2010 District Science Curriculum Development Summer Team
2010 Arlington District AWARE Award 1st Runner-Up Winner -Elementary Educator of the Year
2010-2015 District Level Science Training Facilitator
2009 Arlington District AWARE Award Top 4 Finalist -Elementary Educator of the Year
2009-2015 Ashworth Elementary Science Committee Chair
2010, 2012, 2014 Ashworth Science Fair and Expo Committee Chair
2008-2014 Consistent Top 10 Arlington ISD Ranking for Science State Assessment Scores
2006-2007 Creator of "The Imagination Factory" After-School Science Program
2006 & 2007 Teacher of the Year Finalist Joe Wilson Intermediate
2006 5th Grade Team Leader Joe Wilson Intermediate
Teacher Tutorial Schedule
Tutorials scheduled as needed.