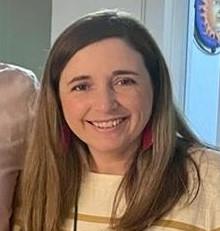 Phone:
Email:
Degrees and Certifications:
Maria Gonzalo

Welcome to Middle School, Explorers and Parents! And, especially, ¡BIENVENIDOS A LA CLASE DE ESPAÑOL!

I feel truly privileged to teach Discovering Spanish at the GTA and to be a part of the Q. This class will allow our new 6th graders to be immersed into this great language and culture, in preparation for Spanish 1 and 2 in the upcoming years.

A little about me: I was born and raised in Caracas, Venezuela, the youngest of a large family. I went to Law School and graduated as a lawyer back in my country and went ahead to pursue a Master's degree in Law at Cornell University, in up-state NY. I met my future husband there, and not long after, we were establishing ourselves in Miami, Florida. I switched gears and devoted myself to raising my family for a few years. I have two children (a Sophomore in HS and a Freshman in College - that's right, I'm navigating myself a big change in my oldest son's life, so I understand how many of you may feel about starting Middle School). Over the years I was dedicated to my family, I slowly got more and more involved in the educational atmosphere in different capacities. From these experiences, as well as my passion for the Language Arts, World Languages and specially for children and education, came my desire to become a teacher. Spanish being my first language, it was only natural for me to choose to get my certification in this field. I really believe being able to communicate in more than one language opens many doors in life, specially in this day and era.

As for the little free time I have left during the school year -LOL-, I enjoy traveling, reading, baking and just in general, spending time with my husband, my teenage children, and my three dogs.

Don't hesitate to let me know if I can help in any way. I'll be here to support you and cheer for you along the way, as we begin this adventure that is Middle School!

Let's make this a fantastic year, Explorers!
email: maria.gonzalo@fortbendisd.com

Discovering Spanish - 2nd through 7th Periods

Conference - 1st Period

6th Grade Advisory - Tuesdays and Wednesdays

Tutorials - scheduled as needed on Tuesdays and/or Wednesdays