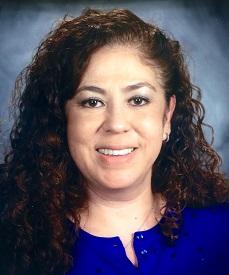 Phone: (281) 634-3435
Email:
Degrees and Certifications:
Texas Certification in Bilingual Education
Mrs.

Irina Maldonado

Hola, mi nombre es Irina Maldonado. Nací en Monterrey, N.L. Fui a la Universidad de Nuevo León, en donde obtuve la Licenciatura en Comunicación. Hace 26 años que vivo en el área de Houston.
He estado casada por 26 años con mi esposo Raúl, tenemos dos hijas, Nikki de 22 y Dani de 24 años.
Este es mi decimo año trabajando para FBISD.
Pienso que cada estudiante es capaz de tener éxito en su vida.
Recuerde que los estudiantes necesitan leer por lo menos 20 minutos diarios para tener éxito durante el año escolar.
¡Querer es poder!

Hi, my name is Irina Maldonado. I was born in Monterrey, N.L. Went to the University of Nuevo Leon; my Bachelor Degree is in Public Relationships. I have lived in the Houston area for 26 years. I have been married to my husband, Raul, for 26 years and we have 2 daughters, Nikki (22 years old) and Dani (24 years old). This is my 10th year working for FBISD.

I believe that each student is capable of succeeding in life. Remember that students need to read for at least 20 minutes every day to have a successful school year.
Daily Schedule
8:10 a.m. - 9:05 a.m.

Math Block

9:05 a.m. - 10:50 a.m.

Specials/Planning/Conference Time

9:50 a.m. - 10:00 a.m.

Math Block

10:00 a.m. - 10:30 a.m.

DEAL Block

10:30 a.m. - 11:00 a.m.

Math Block

11:00 a.m. - 12:00 p.m.

Recess/Lunch

12:00 p.m.- 12:45 p.m.

Science Block

12:45 p.m. - 1:00 p.m.

Health Block

1:00 p.m. - 2:30 p.m.

Math Block

2:30 p.m. - 3:15 p.m.

Science Block

3:15 p.m. - 3:25 p.m.

3:25 p.m.

Dismissal
Conference Period
9:05 a.m. - 9:50 a.m.

*Monday: by appointment

*Thursday: by appointment

*Friday: by appoinment
Outclass Schedule
Monday - Music

Tuesday- PE

Wednesday- Library

Thursday - Art

Friday- Fitness Friday