Chick - Fil - A Spirit Night!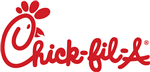 Join us for food and fun while supporting QVE!
Members of QVE's Amazing Kinder team will be present during the event! This is a wonderful chance to meet and mingle with Ms. Ruggers, Mrs. Owens, Mrs. Vasquez and Mrs. Velasquez.
Wednesday, December 14th
5:00 p.m. - 8:00 p.m.
Chick-Fil-A Restaurant
6124 Highway 6 South at FM 1092 (Murphy Road)
Spirit Nights are a great way for students, parents, and staff to interact outside of the school, while raising money that helps fund PTO events, teacher requests, and many other school activities.
Be sure to drop your reciept in the labeled container. A percentage of all sales goes directly back to QVE!