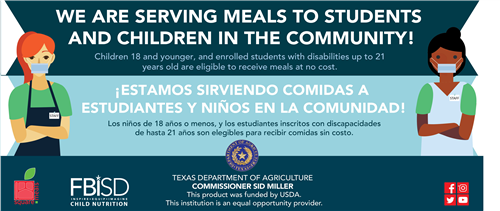 USDA waiver extends free meals for students
Free student meals will be available for the entire school year, as a result of a waiver from the USDA (US Department of Agriculture). All students, including those not enrolled in FBISD, can receive one free breakfast and/or lunch meal per school day.
Students will only need to go through the cafeteria line during breakfast and lunch, and FBISD students enrolled in online learning may receive meals at any of the ten Grab and Go locations, located across the District. Students not enrolled in FBISD may also receive meals at Grab and Go locations.
Please note, there is no further action required of parents for students enrolled in face-to-face instruction. Students will only need to go through the lunch line in the cafeteria. Free meals include the complete packaged breakfast and lunch meal, and a la carte items are available for sale.
Starting the week of Monday, December 7, Fort Bend ISD will transition to two days of pickup for student meals, Monday and Thursday of each week.
On Monday, families may receive meals for Monday through Wednesday, and on Thursday, they can receive meals for Thursday through Saturday. Also, beginning on December 7, dinner meals will be available for pickup. To receive dinner meals, families will need to provide a student's ID number and/or the child's name and age.
Families may receive only one breakfast, lunch and dinner meal per student per day.
Grab and Go Meals will be available at the 10 locations listed below:
Curbside Meals 7:00 a.m. - 8:10 a.m.
Dulles High School (550 Dulles Ave, Sugar Land, 77478)
Missouri City Middle School (202 Martin Ln, Missouri City, 77489
Hodges Bend Middle School (16510 Bissonnet St., Houston, 77083)
Curbside Meals 7:30 a.m. - 9:00 a.m.
Willowridge High School (16301 Chimney Rock Rd., Houston, 77053)
Elkins High School (7007 Knights Ct, Missouri City, 77459)
Hightower High School (3333 Hurricane Ln., Missouri City, 77459)
McAuliffe Middle School (16650 S Post Oak Rd, Houston, 77053)
Kempner High School (14777 Voss Rd, Sugar Land, 77498)
Travis High School (11111 Harlem Rd, Richmond, TX 77406)
Ridge Point High School (500 Waters Lake Blvd, Missouri City, 77459)
While the District will be offering free meals to all students for the school year, families are still required to complete the 2020 Free/Reduced Price Meal Application to remain eligible for other benefits. In addition to free or reduced-priced meals and eligibility for the District's Prekindergarten programs, families can also receive the free or reduced fees for the following:
SAT and ACT exams
Internet-at-home services
Extended Day tuition
Physicals for student athletes
Band and orchestra instruments
Summer school and evening high school tuition
CTE (Career and Technical Education) course and uniform fees
Fort Bend ISD also benefits when families complete the 2020 Free/Reduced Price Meal Application in a number of ways, including receiving more funding to support students and consideration regarding accountability ratings and fiscal effectiveness.
Families can complete the application on the SchoolCafe app, and will need to have the following information:
Names of all household members
Amount, frequency and source of current income for each household member
Last four digits of the parent's or guardian's social security number
Signature of an adult household member attesting that the information provided is correct
Students will continue receiving free meals regardless of whether a family is denied or not.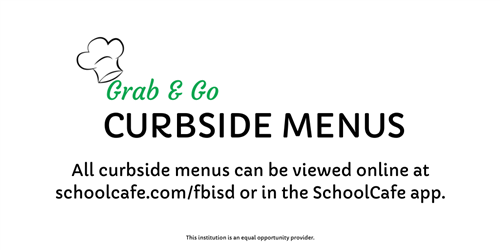 Apart of FBISD's Relaunch, using data from the Learning Model Selection process, school routines and transitions will be developed to support safe student access to meals during breakfast and lunch times. The percentage of students will dictate the degree of student movement that can be accommodated to support mealtimes during the day, with students either eating meals in the cafeteria with appropriate social distancing, or in their classrooms.

Determinations regarding food services logistics will be made based on prioritizing defined health and safety protocols.
Students eating in the cafeteria will be spaced out at least six feet, with all students seated on one side of the table, facing the same direction.
Meals will be packaged in to-go containers for students who need to return to classrooms to eat, and disposable plasticware will be provided. Students will also be using disposable trays for the immediate future, until conditions improve.
All students will use their student ID badge to eliminate the need to punch their number on a keypad, and if a student doesn't have one, a staff member will enter their ID number in the computer.
FBISD recommends that cash is not used, and instead, parents may pre-load their student's account at schoolcafe.com/fbisd.
All serving lines will be cleaned in between each meal period, and tables and chairs will also be cleaned in between use.
View how to move through lines quicker using the Student ID bar code in SchoolCafe!