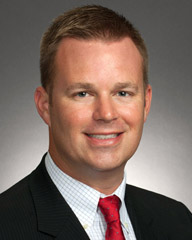 Jason Burdine

Term Expires - 2020
Jason Burdine was re-elected to Position 1 in 2017 and is serving a second term as the Board Vice President. His family has called Fort Bend their home for the past nine years. He is a graduate of Texas A&M University where he received his Bachelor of Science in Education.
Jason is currently a Financial Adviser and has earned numerous accolades for his commitment to exemplary service. In the Fort Bend community, Jason has mentored at-risk youth and has served as a member of the Ridgemont Elementary Campus-Based Leadership Team. Other community involvement has included volunteering at M.D. Anderson Cancer Center, where he has logged a total of 500 volunteer hours over the past 10 years. Additionally, he has served on the District Strategic Plan Steering Committee working collaboratively on the Facilities Master Plan for FBISD. Jason is enrolled in the Fort Bend Chamber of Commerce Leadership Forum.
Jason has been married to his wife Andrea for 10 years, and they have two young children who attend an FBISD school. In addition to volunteering, Jason enjoys spending time with his family, traveling, fishing, and enjoying the outdoors.