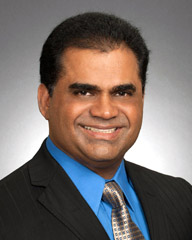 KP George

Position 5
Term Expires - 2020
KP George was elected to Position 5 in 2014 and re-elected in 2017. He grew up in a tiny village in South India. He began his education learning the local language as he walked barefoot to get to school. As he did his homework in his straw hut by the light of a kerosene lamp and helped his parents farm before and after school, KP dreamed of achieving his greatest goal: coming to the land of opportunity and living the American Dream. His hard work propelled him out of the poverty of his hometown. He arrived in the U.S. in 1993 to work for a financial firm, and has since earned multiple financial certifications and licenses.
KP is currently self-employed as a Board Certified Financial Planner and owns and manages an independent financial planning practice with six other advisors. Since 1999, KP and his wife, Sheeba (an FBISD educator), have raised their three children in Sugar Land. One of his children is a recent graduate, and two are currently attending FBISD schools. KP took the lead in establishing the Hightower High School Academies' Booster Club in 2013 and served as its first president. He has also served local IndoAmerican groups, the Sugar Land Rotary Club, and the Fort Bend Chamber of Commerce. He is a member of the FBISD Parents Advisory Team and State Elections Policy & Affairs Team for State Representative Rick Miller.
KP George is very thankful that God has given him the opportunity to live The Dream. Now, he wants to ensure that our children have the necessary tools to achieve their DREAMS, because they are our future.