Elkins Morning Traffic Information​
Highway 6 & Brookstone traffic: Please drop off students using the circle drive in the front of Elkins HS. Please pull all the way forward and encourage students to exit quickly to keep traffic flowing. Students enter through front entrance. Exit towards Highway 6.

Thompson Ferry traffic: Enter Staff Parking Lot​. Drop off in labeled 2 lanes. Students enter Staff Entrance @100 Hallway​​

Student Drivers – We are encouraging you to

avoid Thompson Ferry and utilize Oilfield to Hwy 6 to get to Knights Court (driving past River Pointe Church and turning right in to the student parking lot). Please have your parking permit displayed.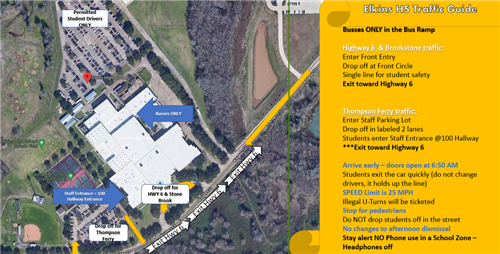 ​​