Continuous Improvement and Embedded Professional Development
Continuous Improvement and Embedded Professional Development
The move to online instruction last year came at a rapid pace, and we recognize that many staff members may have felt ill-equipped to tackle the change. This year, we will ensure that all teachers have consistent, embedded professional development during the year, so that they are prepared for any scenario. The expectation is that there will be daily and weekly training so that teachers are constantly being given the tools they need to support students. Topics to be covered include:
Balanced, Unbiased curriculum delivery
Building Classroom Culture (SEL)
Health, Safety, and Wellness
Instructional Expectations
PLCS: Unit, Concept and Lesson Design
Campus Daily Professional Development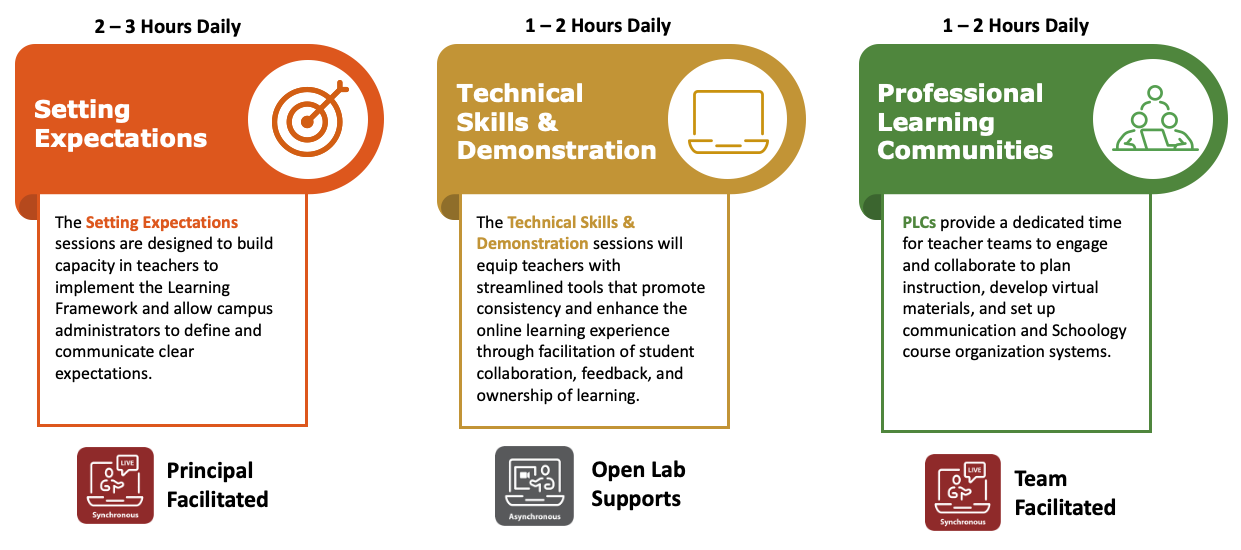 Setting Expectations - 2-3 Hours Daily - Principal Facilitated
The Setting Expectations sessions are designed to build capacity in teachers to implement the Learning Framework and allow campus administrators to define and communicate clear expectations.
Technical Skills & Demonstration - 1-2 Hours Daily - Open Lab Supports
The Technical Skills & Demonstration sessions will equip teachers with streamlined tools that promote consistency and enhance the online learning experience through facilitation of student collaboration, feedback, and ownership of learning.
Professional Learning Communities - 1-2 Hours Daily - Team Facilitated
PLCs provide a dedicated time for teacher teams to engage and collaborate to plan instruction, develop virtual materials, and set up communication and Schoology course organization systems.