Learning Framework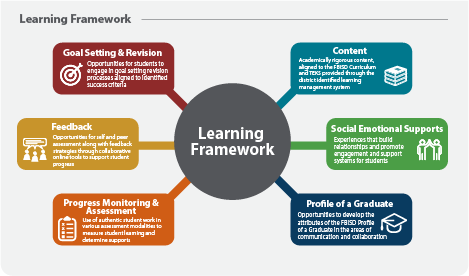 Content – Academically rigorous content, aligned to the FBISD Curriculumand TEKS provided through the district identified learning management system.
Social Emotional Supports – Experiences that build relationships and promoteengagement and support systems for students.
Profile of a Graduate – Opportunities to develop the attributes of the FBISD Profile of a Graduate in the areas of communication and collaboration.
Progress Monitoring & Assessments – Use of authentic student work in various assessment modalities to measure student learning and determine supports.
Feedback – Opportunities for self and peer assessment along with feedback strategies through collaborative online tools to support student progress.
Goal Setting & Revision – Opportunities for students to engage in goal setting revision processes aligned to identified success criteria.