Return to Headlines
Internet, Gaming and Social Media - How Much Is Too Much? - November 2017
In this day and age with computers, smartphones and social media, it can be difficult to disconnect. But when does this constant connectivity become a problem, especially for young students?
In support of Fort Bend ISD's Speak Up! initiative, the District's Counseling and Postsecondary Readiness Department recently invited Nathan Driskell, a professional counselor, to come out and speak to parents at a wellness event at First Colony Middle School. The evening's topic was on an addiction that many aren't even aware of – internet and gaming addiction. Smartphones have also made it the norm to be connected all the time from anywhere and this norm will only continue to grow as technological advances are made. It also makes it more difficult to see internet and gaming addiction as true, disruptive and dangerous addiction.
Driskell is a Licensed Professional Counselor-Supervisor and is currently providing therapy services out of H.O.P.E Psychotherapy of Houston, PLLC. He focuses on the treatment of internet addiction and Asperger's Disorder. As someone who suffered from internet addiction, Driskell knows firsthand how being connected all the time can turn into a slippery slope.
According to Driskell, he says there are three main components to be mindful of when looking at internet and gaming addiction: spending excessive time online engaged in non-work or school-related activities that disrupts your daily life, thinking of online activities while not online, and having relationships suffer due to spending too much time online.
Aside from internet and games, another component that feeds into this addiction is social media. According to a report by Common Sense Media, teens on average are spending nine hours a day consuming media, with much of it being on social media. There are many applications students can connect to – with some of the most popular being Facebook, Twitter, Snapchat and Instagram.
What can parents do to make sure your child isn't becoming addicted to the internet? Here are a few tips to make sure your child uses the internet and social media responsibly.
Take control of your child's devices, especially those with internet access.
Learn about all the apps and games your children play.
Find out who they are talking to and learn who their friends are.
Set a time for online access and a time for when there is no access.
Limit the amount of electronics in their room, especially smartphones.
Use parental control applications such as Norton Family to know what your children are doing online.
Talk to your children about their online activities and show interest in their world, as not all apps or games are bad
Driskell says that if you feel your child may be addicted to games, or is developing unhealthy internet and social media habits, it's important to reach out for help because these addictions are sometimes not taken as seriously as they should be.
For more information or resources, visit FBISD's Counseling and Postsecondary Readiness Department's webpage, or contact your child's school counselor.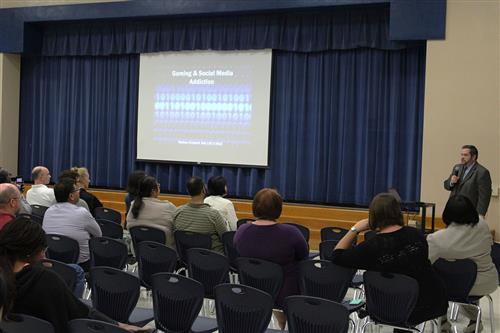 ###