Return to Headlines
Two FBISD Destination Imagination Teams advance to Global Competition
The Maximatics and The Spectacular Creators are among less than 100 Texas teams to make finals
FORT BEND ISD (April 20, 2017) – Fort Bend ISD congratulates the two Destination Imagination (DI) teams – Cornerstone Elementary's The Maximatics and Sienna Crossing Elementary's The Spectacular Creators – that have advanced to the 2017 Global Finals. They were among seven FBISD DI teams to advance to the state competition, held April 8. At state, The Maximatics earned 1st place in the Engineering Challenge and The Spectacular Creators earned 6th place in the Structural Challenge. Of the 4,000 DI teams to compete at the state level, less than 100 advance to the Global Finals.
The DI program encourages teams of learners to have fun, take risks, focus and frame challenges while incorporating STEM (science, technology, engineering, and mathematics), the arts, and service learning. Participants learn patience, flexibility, persistence, ethics, respect for others and their ideas, and the collaborative problem-solving process.
The two FBISD teams will join more than 8,000 of the top-scoring DI teams from 45 U.S. states and 14 countries from around the world in showcasing their innovative and creative skills at the DI international competition, which will be held May 24-27 in Knoxville, Tennessee.
Cornerstone Elementary's The Maximatics includes team members Shikhar Joshi, Sharvesh Suresh, Sanjana Mittal, Saachi Jain, Suhani Shah, Sarvesh Agarwal, Harekas Bindra (Commowealth Elementary), and Managers Beena Hemkar and Sachin Jain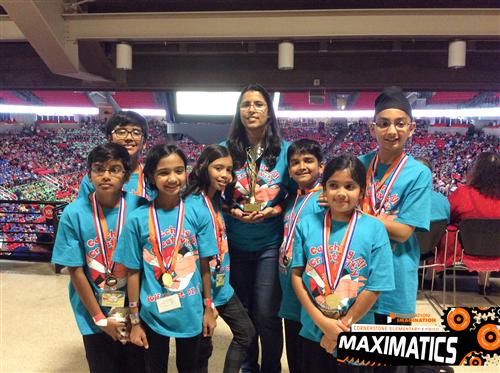 Sienna Crossing Elementary's The Spectacular Creators includes team members Chase Kalmus, Katelyn Le, Gracie Zhang, Conlan Smith and Manager Susan Bradley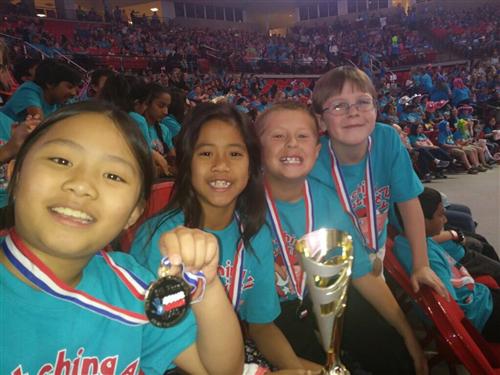 ##