Return to Headlines
Fort Bend ISD's Student Leadership names 2017-18 cohort of Student VOICES (4/20/2017)
Fort Bend ISD (April 20, 2017) – Fort Bend ISD's Student Leadership Department has named the 2017-18 cohort for Student VOICES. The students represent a cross-section of the District's student population and provide a source of feedback to the administration and leadership on different topics and District initiatives. The students also plan and host the annual District-wide Diversity Conference.
The 2017-17 cohort is:
Austin High School – Susan Caroline Owens, Sameeha Rizvi and Tanvi Shah
Bush High School – Mohammad Hasnain, Jazalynn Johnson, Nanki Malik and Natalia Garcia-Sanchez
Clements High School – Chikamara Okoroafor, Thomas Rivera and Cate Spitznagel
Dulles High School – Oluwatoni Ajala, Abhinav Dwan and Lauren Yang
Elkins High School – Radhika Daru, Anya Pazhoor and Robert Slaybaugh
Hightower High School – Arwa Hasnain, Villa Matovu and Pranav Thiagarajan
Kempner High School – Hannah Garcia, Leslie Nguyen and Sabrina Yohannes
Marshall High School – Jazlyn Cahee, Yasmin Lathan and Enyichi Nwaobasi
Ridge Point High School – Sarah Belbin, Vernon Huggans and Bridney Ramirez
Travis High School – Kennedy Jackson, Illeana Levy and Shayla Rose
Willowridge High School – Marika Mitchell, Joran Rolling and Stephanie Vigil
The Student Voice Advisory Network is comprised of 10th-, 11th- and 12th-grade students from all of the District's 11 high schools. To be selected, students must apply and write a personal statement, as well as receive recommendations from two of their teachers. They must also have a strong academic record, good attendance and good behavior.
Visit
FBISD Student Leadership
to find out more.
Photographs: During their first meeting, students met with Dr. Charles Dupre, Superintendent of Schools, and began planning for the next Diversity Conference.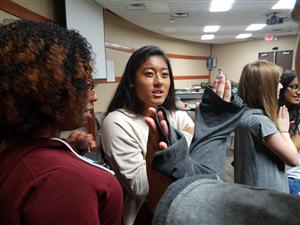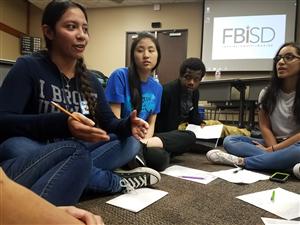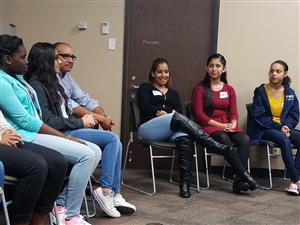 ##