FORT BEND ISD (February 16, 2017) – Stripes Convenience Stores recently held a ribbon cutting ceremony at its new Missouri City store, and during the event awarded Fort Bend ISD with a $1,000 donation to support the District's Homeless Program.
"When opening a new store in the community, it is our pleasure to give back to children's health and education," said Piper Scott, Stripes Convenience Stores, Public Relations/Marketing representative. Stripes selected FBISD as the recipient of the donation based on the District's continual support of students and their families.
"We appreciate this generous donation, and are fortunate to have the support of businesses such as Stripes that recognize the importance of education," said Pamela Shaw, Director of Parent and Community Engagement.
Accepting the donation on behalf of FBISD were representatives from the District's State and Federal Programs Department, including Jennifer Sowells, Title I Campus Support Coordinator; and District social workers Rashan Carter, Dana Guzman-Adeoye, Rod Martin and LaSonya Newell; and Anel Perez, clerk.
Photo: Pictured (from left) are: Dean Black and Ken Rowland, Stripes Convenient Stores; Lasonya Newell, FBISD; Mary Betton, Stripes Convenient Stores; Dana Guzman Adeoye and Jennifer Sowells, FBISD; Eddie Rowe, Stripes Convenient Stores; Rod Martin and Anel Perez, FBISD; Travis Conrad, Stripes Convenient Stores; and Rashan Carter, FBISD.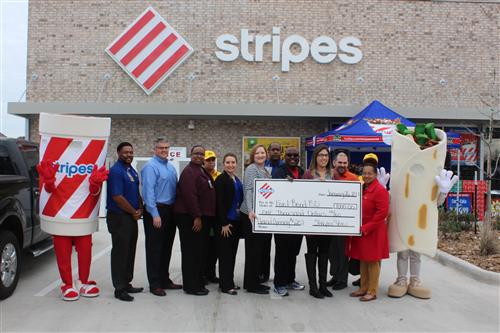 ##