Return to Headlines
FBISD Superintendent of Schools takes on area superintendents in Million Mile Month challenge
Annual online fitness challenge to run April 1-30
FORT BEND ISD – The Fort Bend ISD community – to include students, staff and parents – is gearing up for participation in this year's Million Mile Month (MMM) challenge. Superintendent of Schools Dr. Charles Dupre has agreed to compete with three other superintendents to "step up to fitness" and encourage physical activity and friendly competition among staff, students, and community members.
Million Mile Month challenges individuals and groups to join together as a global community to complete one million miles of physical activity during the month of April and to engage in a huge cause: their health. Individuals can participate by running, walking, biking or performing yoga and other physical activities. Participants are asked to log their miles to help the entire MMM community reach the one million mile goal.
This year, Dr. Dupre is challenging area superintendents Dr. Thomas Randle (Lamar Consolidated School District), HD Chambers (Alief ISD) and Dr. Paul Cruz (Austin ISD) to join in MMM to determine which school district will log the most miles throughout April.
Last year, FBISD declared victory over LCISD in a friendly wager that pitted the two neighboring Districts against each other in an effort to benefit our communities. In all, 1,713 LCISD participants logged 99.319 miles in April (averaging 58 miles per participant). FBISD's 4,277 participants logged a total of 264,461 miles, averaging 62 miles per person and earning bragging rights in the competition. FBISD's logged miles accounted for 25 percent of all miles logged in the state of Texas.
"In FBISD, life balance, health and fitness are important to us," said Dr. Dupre. "I look forward to the friendly competition with area school districts to once again claim bragging rights as the fittest district. For the past two years, we have been among the top organizations in the state in logging the most miles during the challenge, and we plan on continuing that tradition."
FBISD's goal this year is to log at least 300,000 miles during April. As an incentive to increase employee participation, FBISD will award the top schools and worksite (one high school, middle school, elementary school and auxiliary site) with a $2,500 cash prize to apply toward their wellness budgets.
All MMM participants have an opportunity to win MILEstone prizes throughout the challenge (including bikes, gift cards, fit trackers) just for logging their miles.
To join in the challenge and to learn more about Million Mile Month, go to www.millionmilemonth.org to register.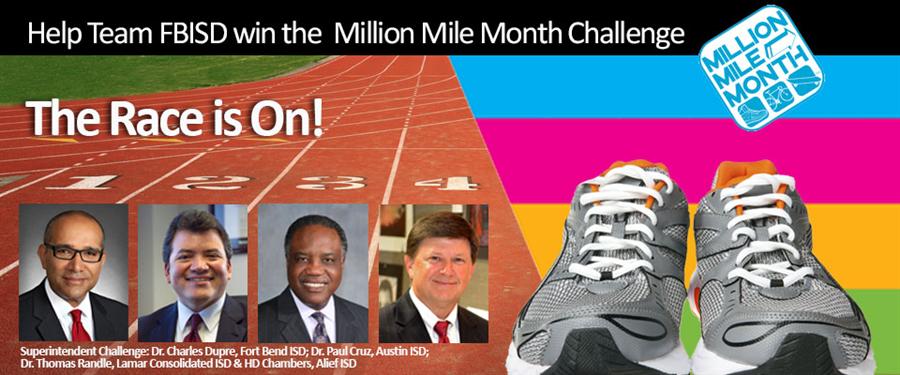 ##