Return to Headlines
FBISD High School Juniors kick off 8th season of Student Leadership 101 Program (12/3/2015)
FORT BEND ISD – Thirty-two Fort Bend ISD juniors, representing all 11 FBISD high schools, helped kick of the 8th season of the District's Student Leadership 101 Program by taking part in the opening teambuilding and leadership development session. The FBISD Board of Trustees created the program in 2008 to give high school students an opportunity to explore their personal roles in community leadership and service by taking part in monthly seminars focusing on leadership roles in local government, the judicial system, business, healthcare, and service and volunteerism.
The 2015-2015 Student Leadership 101 Cohort includes:
Austin High School – Queen Onyeahialam, Ashlyn Sheffield, Julia Shepstone
Bush High School – Camille Barrientos, Phillip Le, Jenifer Ogu
Clements High School – Charlene Mandimutsira, Zander Tedjo, Sara Venkataraman
Dulles High School – Jane Cloninger, Luke Metzer, Sanika Phanse
Elkins High School – Kody Ngo, Mya Torres, Kale Wicks
Hightower High School – Jonathan Carey, Anjali James, Alina Mawji
Kempner High School – Anthony Amy, Vianca Jimenez, Kennedy Verge
Marshall High School – Veronica Lopez, Chukwudalu Ononenyi
Ridge Point High School – Lillian Bajor, Jacob Stanley, Heather Wickstrand
Travis High School – Zariah McInnis, Victoria Pride, Cameron West
Willowridge High School – Ja'Quail Jackson, Victoria Parada, Marilyn Santana
Welcoming the cohorts to the new season were Board Members Grayle James (president), Kristin Tassin (secretary), KP George and Addie Heyliger (who sponsored the opening session); Superintendent of Schools Dr. Charles Dupre; Program Facilitators Michael Madden, Lynda Ruther and Julie Duplechain; ROPES Managers Angela Espinosa, Allison Leone and James "Mick" McCain; and Talent Management and Development Consultant Brandi Breckenridge (who will lead the students in StrengthsFinder activities).
Program Facilitator Michael Madden welcomed the students, saying, "This is an amazing, life-changing experience that you will remember always." He also thanked the students for making a two-year commitment to the program. The students will participate in the Student Leadership 102 Program as seniors, completing community service projects.
Board President Grayle James took time to explain the Board's role in education. "Our main role is to work in the best interest of all students," she said. She also encouraged the students to get to know one another and share ideas and experiences that they can take back to their campuses as leaders.
Session sponsor and Board Member Addie Heyliger had the opportunity to join the students in the various ROPES leadership activities throughout the day. The activities allowed the students to get acquainted with each other and work together as teams in finding solutions to activity challenges.
"The Student Leadership 101 Program provides students with a great opportunity to meet other students like them and learn how they can step up, be involved in productive learning experiences," said Heyliger. "This particular session allowed the students to develop their problem-solving skills and work as a team to find solutions. They knew when to say 'this is my strength and this is my weakness" as they completed the ROPES activities.
Student Mya Torres from Elkins High School is happy to be a part of this year's cohort. "The people in the group are really nice and open to forming new relationships, and that's nice," she said.
Torres is involved in Habitat for Humanity, church outreach programs and other community service efforts. She is looking forward to meeting with community leaders to learn about their roles in leadership.
Cameron West of Travis High School enjoyed this session and is looking forward to what's next.
"This session was great!," he said. "I learned how to communicate within a group and work together to problem solve. I am looking forward to building my leadership skills so that I can help lead other students in the right direction."
Photo 1: Board Secretary Kristin Tassin and Board President Grayle James welcome students (from left) Chukwudalu Ononenyi of Marshall High School, Alina Mawji of Hightower High School and Julia Shepstone of Austin High School.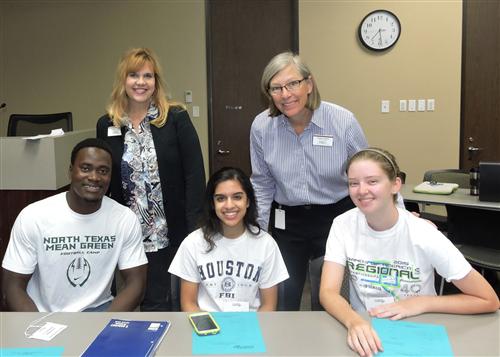 Photo 2: Board Member Addie Heyliger is shown with cohorts Ashlyn Sheffield of Austin High School, Victoria Parada of Willowridge High School and Kale Wicks of Elkins High School.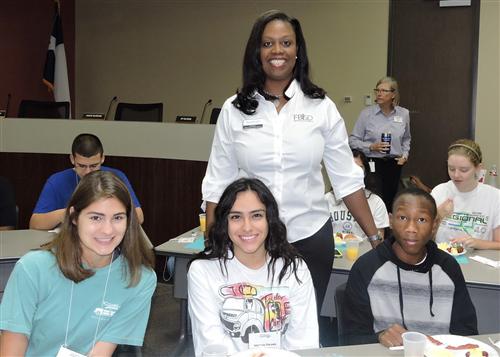 Photo 3: Superintendent of Schools Dr. Charles Dupre welcomes students to the session.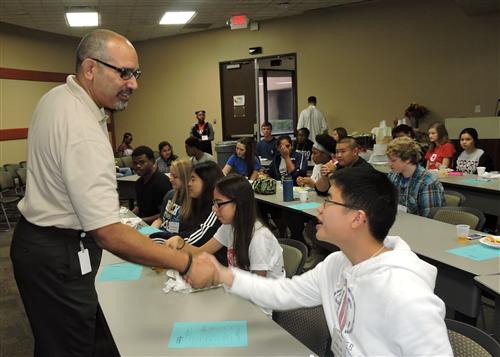 Photo 4: Program Facilitator Michael Madden addresses students.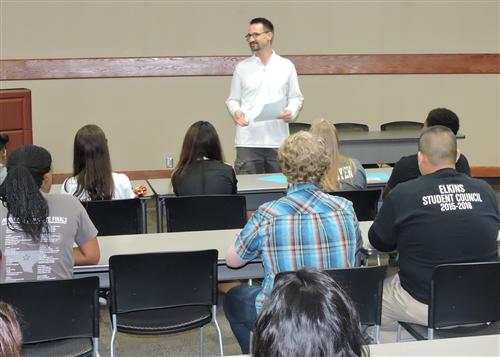 Photo 5: ROPES Managers (from right) Angela Espinosa, James "Mick" McCain and Allison Leone led the students in various activities.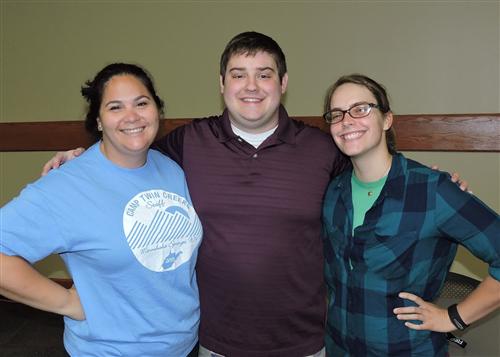 The remaining photos show students involved in various ROPES activities.