Return to Headlines
Cinderella-Cinderfella Project celebrates 15 Years of Making Prom Dreams Come True
Community support needed to ensure future success of the program
FORT BEND ISD: The Cinderella-Cinderfella Project is celebrating its 15th anniversary of supporting and encouraging high school seniors as they prepare for their prom. Through the generous donations from business and community partners over the years, the program has helped more than 930 female and male students go to prom, as well as provide educational scholarships to deserving students.
Founded in 2000 by Eva Fackeldey, in partnership with Fort Bend ISD social workers Paulette Bray and Rod Martin, Cinderella-Cinderfella supports high school seniors who excel in school but are challenged with the means and support to enjoy their senior prom. Unlike other prom-assisted programs, Cinderella-Cinderfella provides students with formal wear (evening gowns and tuxedos), corsages and boutonnieres, prom tickets, hair styling services, and handbags, jewelry and make up for girls.
"Each year there are more students in need of the program offerings, while donated funds and services are always a challenge," said Wyn Johnson, Cinderella-Cinderfella Board Member. "Without the support of businesses and the community at large, the program would not meet the needs of the students we have the privilege of serving."
Realizing the program's needs, Marshall High School teacher Amber Johnson has supported Cinderella-Cinderfella for the past four years and even recruits members of her school's National Honor Society to devote one Sunday a month during the school year to volunteer with the program. The students collect gowns, jewelry, shoes and toiletries to benefit program recipients, and in the Spring, they help organize the facility that houses the gowns.
"When I learned about the Cinderella-Cinderfella Project, I knew in my heart that I had to be a part of this great venture," shared Johnson. "To work with the program is a privilege, and Mrs. Eva is a true angel with a gold halo and wings."
The community can help support the Cinderella/Cinderfella Project by sponsoring a student, volunteering or making a tax exempt donation that not only helps with the rising costs of outfitting a student for prom but supports continuing education scholarships.
For more information, visit www.cinderella-cinderfella.org. To learn how you can support the program, please contact Wyn Johnson at (832) 790-0323 or wyndyjohnson@yahoo.com.
Photo 1: Program founder Eva Fackeldey is shown with a former recipient during her gown selection.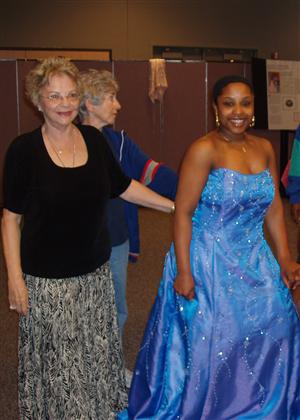 Photo 2: A past recipient of the Cinderella-Cinderfella Project pictured during a dress fitting.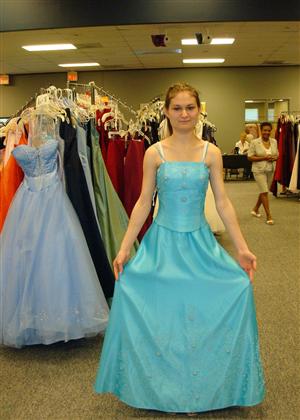 Photo 3: The Cinderella-Cinderfella Board of Directors recently presented program Founders Paulette Bray, Eva Fackeldey and Rod Martin with certificates of appreciation for their work and support of the program over the years.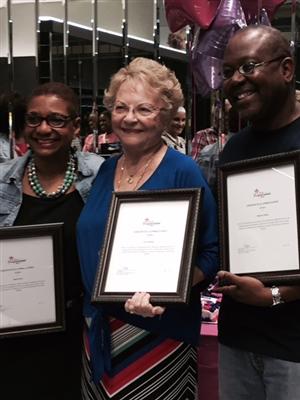 ##