Return to Headlines
FBISD honors its Board of Trustees during special presentation and reception (1/27/2017)
FORT BEND ISD (January 27, 2017) – To celebrate School Board Recognition Month, Fort Bend ISD honored its seven-member Board of Trustees during the January 23 Regular Board Meeting, with a special presentation and reception. District students, staff and community members joined in the celebration to recognize our Board Members for devoting countless hours of their time to ensuring that our students receive the best education possible.
FBISD's Board of Trustees includes Kristin Tassin (president), Jason Burdine (vice president), Addie Heyliger (secretary) and members KP George, Grayle James, Jim Rice and Dave Rosenthal.
"I am truly honored to work with each of our Board Members, who are dedicated to ensuring that every one of our students receive the very best education that inspires and equips them to pursue futures beyond what they can imagine," said Dr. Charles Dupre, Superintendent of Schools.
During the Board meeting, Sullivan Elementary School fifth-grade students presented the Board Members with unique pieces of ceramic art they created especially for our honorees and School Board Recognition Month. Sullivan art teacher, Wil Codilla, shared details about the artwork created by his talented students. Presenting their artwork were students Ruby Haryanto, Marquis Kiatta, Riya Kurian, Macy Scarbrough, Ethan Muniz, Isa Victor and Omar Barakat.
Prior to the Board meeting, the Board Members greeted District and community members at a reception held in their honor. The event gave guests an opportunity to personally thank the Board for their leadership, guidance and support to students, staff, parents and community members.
FBISD also honored the Trustees by inviting the FBISD community to share their thanks with our most dedicated volunteers through social media. Using hashtag #FBISDBOT, an appreciative community tweeted messages of appreciation.
Following are a few of the comments shared by schools and individuals.
You can't spell "Trustee" without FBISD! Thank you #FBISDBOT! We appreciate all you do! @FortBendISD – Oyster Creek Elementary School
#AFE would like to extend a huge shoutout to the #FBISDBOT for all you do to help our Fleming Stars shine brightly! – Fleming Elementary School
HBMS Warriors are appreciative of the support and work of the #FBISDBOT! Thanks for challenging us to equip and inspire our students. – Hodges Bend Middle School
Thank you to our amazing School Board! We appreciate you! #FBISDBOT – First Colony Middle School
#Willowridge appreciates the #FBISDBOT & the way they work off the field so we can show #Class&Character on it!! – Willowridge High School
#FBISDBOT Dulles Vikings appreciate our hard working and enthusiastic board members! – Dulles High School
Thank you, Board of Trustees, for all you do to support Fine Arts education in FBISD! #FBISDBOT – James Drew, Director of Fine Arts
#FBISDBOT I am so impressed with our Board and how hard they work. You can tell their heart is in their countless hours of volunteer work! – Pam McClendon
Photo 1: Shown during the presentation are Sullivan fifth-grade students (from left) Ruby Haryanto, Marquis Kiatta, Riya Kurian, Macy Scarbrough, Ethan Muniz, Isa Victor and Omar Barakat; and (back row) Board Members KP George, Jason Burdine, Jim Rice, Grayle James, Addie Heyliger, Kristin Tassin and Dave Rosenthal.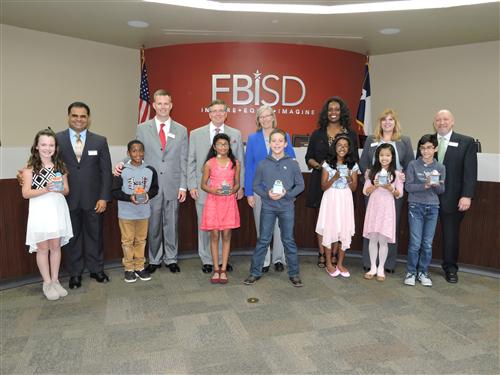 Photo 2: Director of Innovation and Continuous Improvement Dr. Meagan Evans, Board President Kristin Tassin with daughters Hannah and Abigail Tassin; and David Yaffie, Clements High School Principal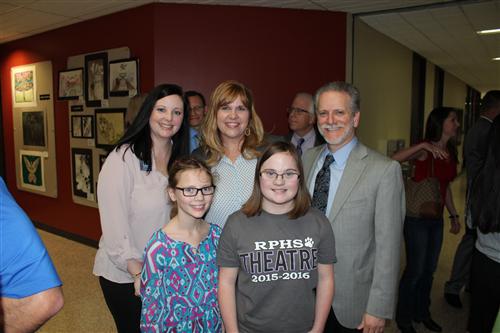 Photo 3: Technical Education Center Supervisor Kennith Kendziora, Student Affairs Director Dr. Dawn Carlson, Board Secretary Addie Heyliger, and Chief Operations Officer Oscar Perez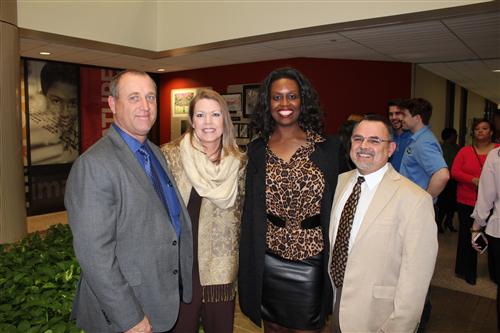 Photo 4: Briargate Elementary Principal Deanna Olson, Board Member Grayle James, and Ridgemont Elementary Principal Stephanie Houston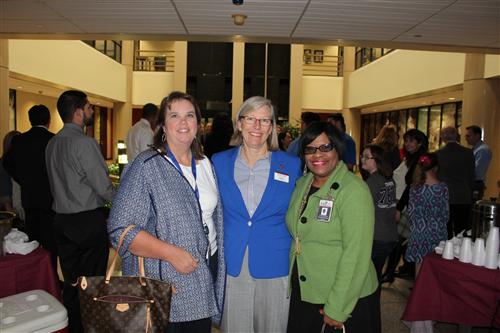 Photo 5: Chief Information Officer Long Pham, Clements High School Principal David Yaffie, Facilities Maintenance and Operations Executive Director Damian Viltz, Board Member KP George, and Attorney Coby Wilbanks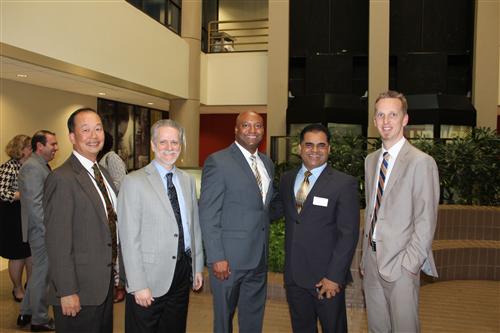 Photo 6: Assistant Superintendent Dr. Joe Rodriguez, Director of Fine Arts James Drew, Board Vice President Jason Burdine with son, Blake; Board Member Dave Rosenthal and General Counsel Robert Scamardo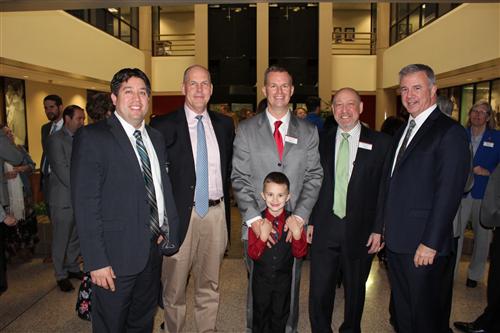 Photo 7: Board Member Jim Rice shown with Child Nutrition Catering Supervisor Shelita Jones, and his sons Douglas Walker-Rice and Daniel Walker-Rice.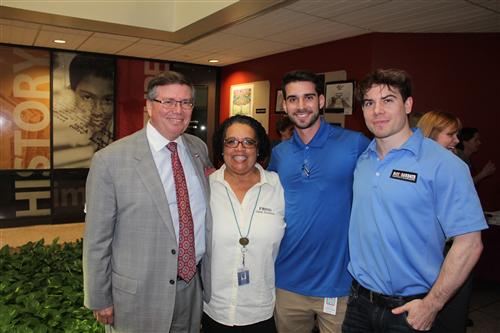 ##