Return to Headlines
Fort Bend ISD Board of Trustees honored in H-E-B's 2017 Excellence in Education Awards Program
FBISD Board is one of five public school boards recognized for strong leadership
FORT BEND ISD (January 27, 2017) – Fort Bend ISD's Board of Trustees is one of five Texas public school boards to be recognized in H-E-B's 2017 Excellence in Education Awards program. The annual program shines a spotlight on public education, recognizing best practices and celebrating the passion and creativity of educators. This is the third consecutive year that H-E-B has recognized five public school boards, highlighting the importance of strong leadership at the Board level.
"I am thrilled that H-E-B has selected our Fort Bend ISD Board of Trustees as one of five finalists in the School Board/Leadership category in the retailer's 2017 Excellence in Education Awards program," said Dr. Charles Dupre, FBISD Superintendent of Schools. "I cannot express how much I appreciate and value the contributions of each FBISD Board Member. They have cast a clear, strong vision designed to ensure all students fulfill their full potential, and they govern the District in a way that provides support and accountability in our mission to inspire and equip students for futures beyond what they can imagine."
FBISD's Board of Trustees includes Kristin K. Tassin (President), Jason Burdine (Vice President), Addie Heyliger (Secretary), and members KP George, Grayle James, Jim Rice and Dave Rosenthal.
H-E-B launched the Excellence in Education Awards program in cooperation with the Texas Association of School Administrators in 2002 as a positive way to support public education in Texas. H-E-B asks customers, partners (employees) and community members to nominate school boards (as well as teachers, principals, districts and early childhood facilities) in Texas. Each nominee receives an invitation to complete an application online and is asked about their professional experiences, educational philosophies and achievements both in and out of the classroom.
Program award winners will be announced at the H-E-B Excellence in Education Awards ceremony on May 7 at the Hilton Hotel in Austin. If selected, FBISD's Board of Trustees could receive up to $25,000.
Pictured are FBISD Board of Trustees – (seated, from right) Kristin Tassin (president) members Grayle James and Dave Rosenthal; and (standing) member KP George, Addie Heyliger (secretary), Jason Burdine (vice president) and member Jim Rice.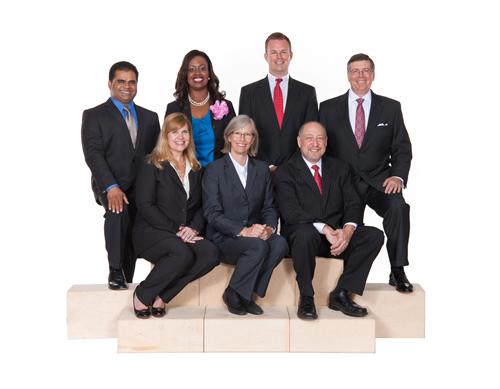 ##