Return to Headlines
McAuliffe Middle School's Coach Teresa Johnson receives Star Furniture Red Apple Award (12/14/2016)
FORT BEND ISD (December 14, 2016) – Teresa Johnson, McAuliffe Middle School Physical Education teacher and seventh-grade football coach, was honored with the Star Furniture Red Apple Award for December 2016. Presented by Great Day Houston, the award recognizes Houston-area teachers who go above and beyond their call of duty to support students.
Great Day Houston reporter Christina Kooker surprised Coach Johnson with the award on Friday, December 9 before a crowd of her supporters – including members of her family, the football team, cheerleaders, and campus and District administrators.
"I am beyond words," said Coach Johnson. "I have watched Great Day Houston and have seen other teachers receive this award, but never thought in a million years that I would be a part of this. This is truly a blessing."
Coach Johnson has taught at McAuliffe for 22 years. She joined the staff after graduating from college and is making a positive difference in students' lives. This year, as the school's first female football coach, she led the seventh-grade football team to win the Division District Championship after several winless seasons. Her dedication to the team extends beyond coaching. She provides meals for the team members after games and is their biggest cheerleader, often leading volunteers in creating team banners and other items to show her support.
"If anyone is deserving of this award, it's Coach Johnson. She has helped to create a positive school environment not only for our football team, but for all of our students," said Assistant Principal Wade Kirkpatrick. He nominated Johnson for the award.
"I agree full-heartedly with Mr. Kirkpatrick," said Principal Mary Brewster. "Coach Johnson believes in our students and the community and has been a positive influence in their lives for the past 22 years. She could have chosen to teach anywhere, but her heart is here at McAuliffe, and we are honored to have her as part of our team."
Photo 1: Red Apple Award winner, Coach Teresa Johnson
Photo 2: Shown (from right) are: Great Day Houston reporter Christina Kooker, Red Apple Award winner, Coach Teresa Johnson; Principal Mary Brewster and Assistant Principal Wade Kirkpatrick.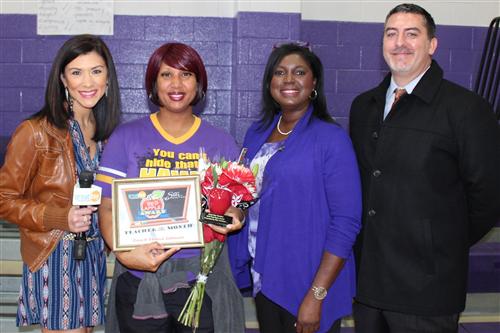 Photo 3: Coach Johnson is shown with her supporters – including family members, football players and cheerleaders, and school administrators and staff.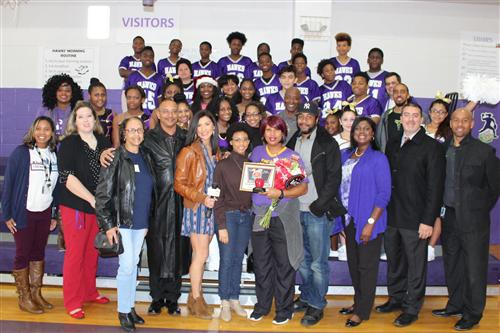 Photo 4: Coach Johnson receives news of her award as her husband, Michael Stallings (left), waits to present her with flowers.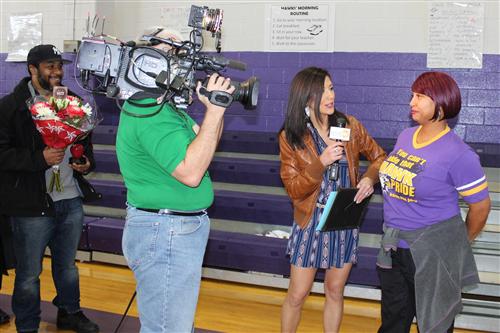 Photo 5: Surrounded by family and students, Coach Johnson receives her Red Apple award and certificate.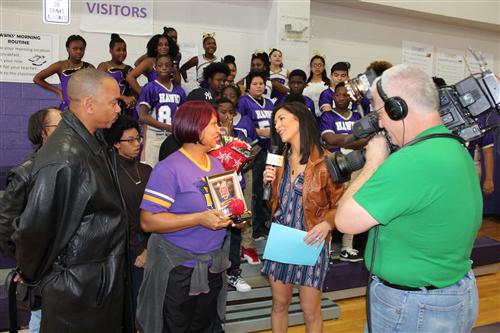 ##