Return to Headlines
Fort Bend ISD Students and Staff observe Breast Cancer Awareness Month (10/22/2015)
FORT BEND ISD – In support of Breast Cancer Awareness Month and to honor family members and friends who are battling the disease, Fort Bend ISD students and staff are taking part in various events and activities throughout the month of October.
Burton Elementary School faculty and staff released pink balloons signifying "a release of grief and celebration of life" in honor of five colleagues and cancer survivors – Sherry Bailey, Celia Alvarado, Denise Walton, Joycelyn Rees and Deidre Lee.
When recognizing the honorees, Principal Keli Mullins said, "I know all too well what you have endured, having had several of my own family members suffer from cancer. I'm sure I speak for the entire Burton family when I say, we love you and are happy to call you a survivor."
Before releasing the balloons, the staff held a "moment of silence" in memory and celebration of the lives that have been touched by cancer. Then on a countdown of 3, 2, 1, the staff released their balloons and watched as they drifted away, carrying with them a special memory or hope for the future. Principal Mullins and Assistant Principals Jennifer Sowells then presented the honorees with gift bags containing pink and white blankets.
Photo: Pictured (from left) are Burton Elementary School Principal Keli Mullins, cancer survivors Sherry Bailey, Celia Alvarado, Denise Walton, Joycelyn Rees and Deidre Lee; and Assistant Principal Jennifer Sowells.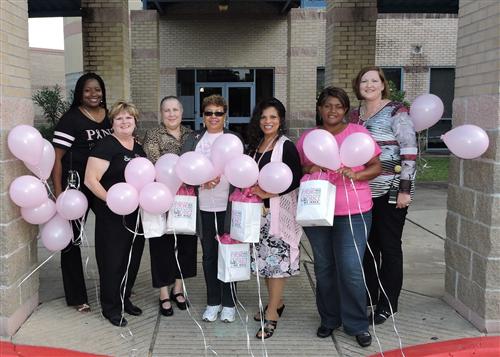 Photo: Burton staff members hold a "moment of silence" honoring cancer victims.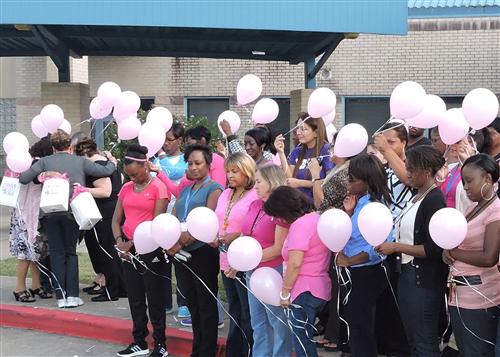 Photo: Staff prepares to release the balloons.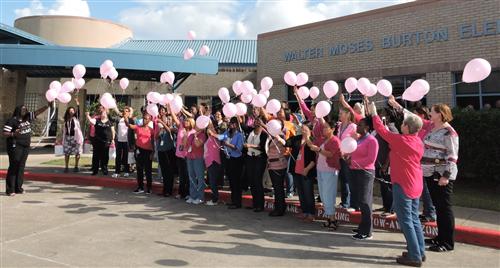 Photo: Off they go! Burton staff releases the balloons in honor of cancer victims.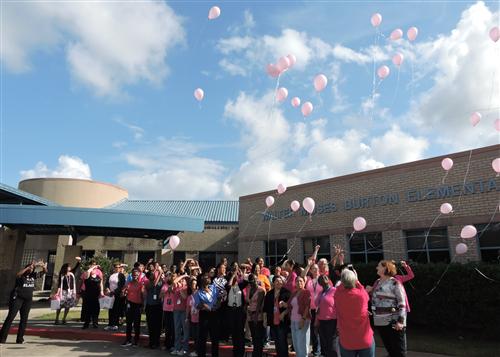 To show their support of cancer victims while promoting Breast Cancer Awareness, Elkins High School athletic student trainers helped prepare students and staff for their school's "Pink Out" Day by selling "U-Knighted for a Cure" t-shirts. The shirts were a popular item on campus. The trainers managed to sell 300 shirts in less than two hours, raising more than $900 to support cancer research.
Elkins students and staff also collected more than 43,000 units of diapers to donate to Star of Hope during Breast Cancer Awareness Month.
Photo: Pictured (from left) in their "U-Knighted for a Cure" t-shirts are student trainers Mariah Hernandez, Ciara Davis and Taylor Scott; June Tomlin, Athletic Teacher Trainer; and student trainers Sabrina Tortolero, Leah Cannon and Victoria Gant.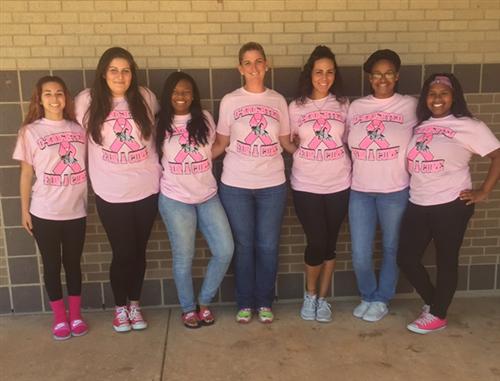 Photo 2: Shown are Elkins High School faculty and staff members in their Pink Out shirts.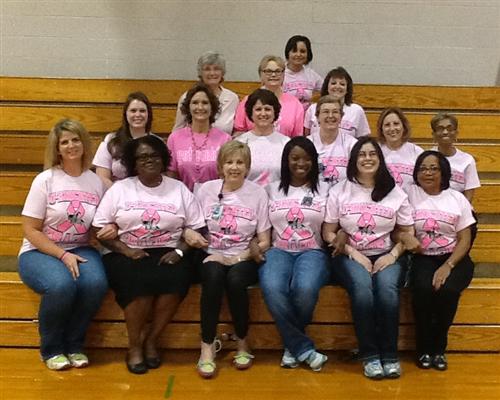 Baines Middle School kicked off the month-long observation with its annual Lynn Armstrong Breakfast, held in memory of former Blue Ridge Elementary School principal Dr. Lynn Armstrong. The girls volleyball team welcomed guests and provided them with helpful resources. The school will also host onsite mammograms by Mammosafe on October 22, and a Breast Cancer Walk and Pink Out Day on October 30.
"We host these events each year to help bring light to the ugly disease and its effects on both women and men," said Baines Middle School Volleyball Coach Ashley Dedmon. "We provide health literacy to families throughout the community so that they can be more knowledgeable about the nutrition, environment and genetic factors that play a part in how breast cancer can occur and develop. This is not just a month of pink, but a lifelong lesson on becoming health literate."
Photo: Baines Middle School's volleyball team shown in their "Battle, Believe and Breathe" t-shirts.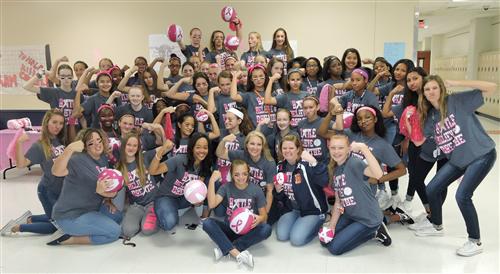 Photo: Principal J.J. Roberts and Volleyball Coach Ashley Dedmon (back center, from left) are shown with volleyball team members.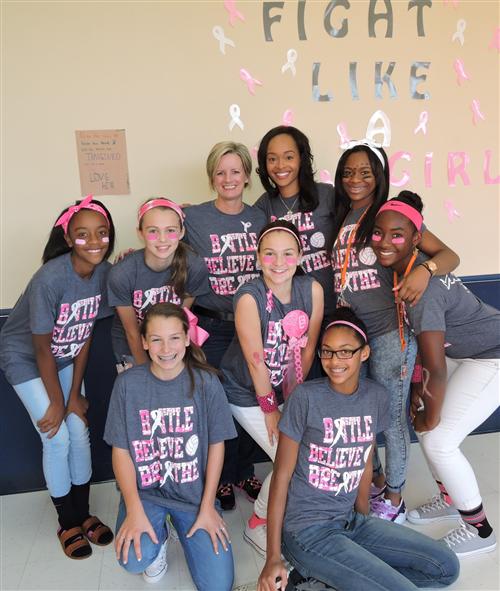 Photo: Volleyball members serve breakfast to guests at Baines Middle School.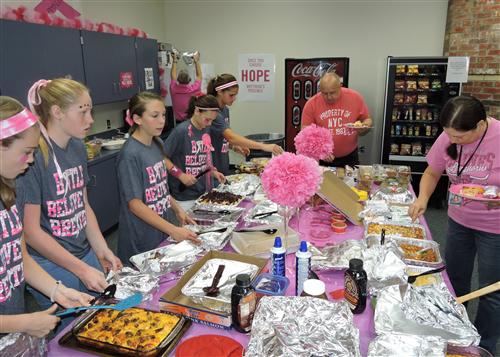 To show their support of individuals affected by breast cancer, Dulles Elementary School students and staff will "Blow a Wish for a Cure" on October 30. The group will dress in pink (to support breast cancer awareness) and lavender (for all other types of cancer).
FBISD Administration Building employees donned pink attire and carried "I walk for…" signs as they walked around the building to support those near and dear to their hearts. The District's Health and P.E. division sponsored the event, and more than 30 employees participated.
Photo: FBISD employees prepare to walk for cancer victims.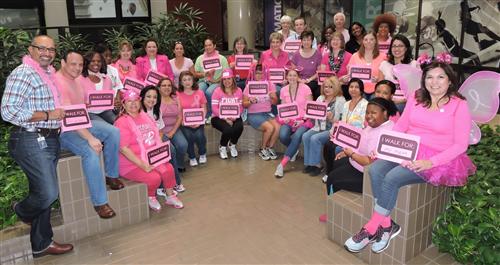 Photo: District staff members are shown walking in support of family and friends with cancer.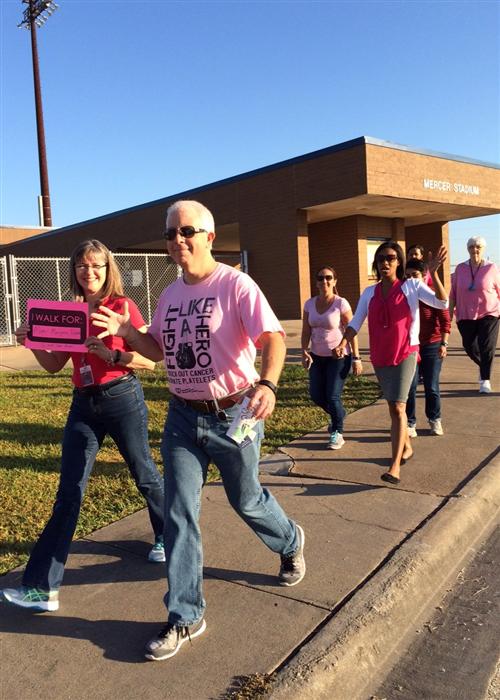 ##