Teacher Information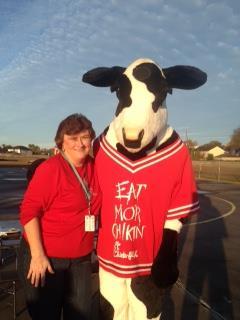 Phone: (281) 634-2865
Email:
Degrees and Certifications:
M.Ed. B.S. Interdisciplinary Studies Generalist 1-8
Ms.

Eileen Bruns

I was born in Anchorage, Alaska because my dad was stationed at Elmendorf Air Force Base at the time. Since then, I have lived in Colorado Springs, San Antonio, Wiesbaden (West Germany), Kansas City (Missouri side), Alexandria (Louisiana), and Denver (Colorado). In the 1980s, after earning my Bachelors of Science at the University of Northern Colorado, I moved to Houston to my first full time teaching job. This was about 30 years ago. In 2006, I earned my Masters of Arts at the University of Houston Downtown. I've had the privilege of teaching 2nd through 5th grade. I love teaching math but I especially love teaching science. It's so fun to see when the experiment turns out "right" but there's still a lot to be learned when it does not come out as planned. Outside of school I like to read as well as crochet. I guess it's no secret that I like the Denver Broncos so when there's a game to be watched that they're playing, I'm there in front of the TV with my bottle of Orange Crush soda. Go Broncos! Ok, the Texans rock too. I watch them with a Cherry flavored 7-Up though. Go Texans!!
Teacher Schedule
Covid M, W and F Schedule

Asynchronous Learning - 8:10am to 8:815 am

Synchronous Outclass* - 8:15am to 8:45am

Asynchronous Learning - 8:45am to 9:10am

Synchronous Math - 9:10am to 9:50am

Synchronous Small Group/Intervention - 9:55am to 10:40am

Synchronous Science - 10:40am to 11:25am

Asynchronous Learning - 11:25am-11:30am

Lunch/Recess - 11:30am to 12:30pm

Synchronous Math - 12:30pm to 1:15pm

Asynchronous Learning - 1:15pm to 1:50pm

Synchronous Science - 1:50pm to 2:35pm

Asychronous Learning - 2:35pm to 3:25pm

*Outclass rotation:TBD


Covid T and Th Schedule

Asynchronous Laerning - 8:10am to 8:15am

Synchronous Outclass* - 8:15am to 8:45am

Ascyhncronous Learning - 8:45am to 9:00am

Synchronus Math - 9:10am to 9:55am

Synchronous Small Group/Intervention - 9:55am to 10:40am

Asynchronous Learning - 10:40am to 11:30am

Lunch/Recess - 11:30am to 12:30pm

Synchronous Math - 12:30pm to 1:15pm

Asynchronous Learning - 1:15pm to 3:25pm

*Outclass rotation:TBD
Teacher Tutorial Schedule