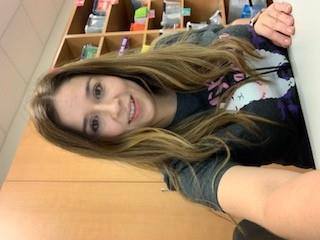 Phone:
Email:
Degrees and Certifications:
BS in Architecture Teacher Certification in: EC-6 with STR SPED Bilingual- in progress
Mrs.

Diana Saenz

Hello,

My name is Diana Saenz, I'm the Early Childhood Special Education Teacher for 3 years old here at Madden.

Something about me, I have two boys and a little girl: Santiago, Sebastian, and Iliana, I also have a dog named Leah. They are the joy of my life. :)

My favorite things are family, the color pink, coffee, food, and any relaxation activity.

My goal as a teacher and case manager is to help master skills that will help students grow and glow in their unique ways.
SAENZ-ECSE- 3 years old

Morning (AM)

8:10-8:25 Arrival Activity

8:25-8:45 Morning Greeting/ Circle time

8:45-9:20 Centers

9:20-9:25 Wash Hands

9:25-9:35 Snack

9:35-9:55 Recess/ Gross Motor Development

9:55-10:10 Word Play/ Name Study

10:10-10:30 Story Time/ Shared Reading/ Read Aloud

10:30-11:00 Centers (ST Tuesdays)

11:00-11:15 Bathroom/ Pack and get ready for Lunch

11:15-11:40 Lunch

11:40 Dismissal

Afternoon (PM)

11:55 Arrival

12:00-12:25 Lunch

12:25-12:30 Wash Hands

12:30-12:40 Arrival Activity

12:40-1:00 Greeting/Circle Time

1:00-1:30 Centers (ST Mondays)

1:30-1:50 Story time/ Shared Reading/ Read Aloud

1:50-2:00 Word Play/ Name Study

2:00-2:20 Recess/Music development

2:20-2:55 Centers

2:55-3:05 Bathroom Break

3:05-3:15 Snack

3:15-3:20 Pack up and Clean up

3:20- 3:25 Dismissal