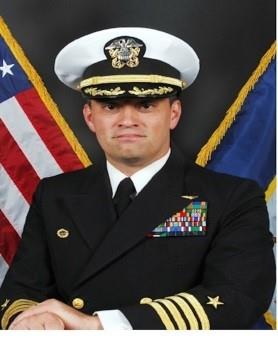 Phone: 281-634-2208
Email:
Degrees and Certifications:
Bachelors of Arts Mathematics (University of San Diego) Masters of Arts Strategic Studies (Air War College) Aviation Safety Officer Certificate (Naval Postgraduate School) National Defense Authorization Act Advanced NJROTC Instructor Certification
Captain Michael Carambas

Lead from the front! Lead by example! Ranger Company's recent accomplishments:

TWO CONSECTUIVE YEARS AN AREA 10 DISTINGUISHED UNIT WITH ACADEMIC HONORS

TWICE QUALIFIED (2017 2019) NATIONAL JROTC LEADERSHIP ACADEMIC BOWL (JLAB)

SIX CONSECUTIVE YEARS QUALIFIED AREA 10 NAVY JROTC STATE CHAMPIONSHIPS

FIRST TIME EVER (2019) QUALIFIED NAVY JROTC NATIONAL CHAMPIONSHIPS

WE WANT YOU TO JOIN a winning Clements High School organization!

CHS NJROTC Senior Naval Science Instructor. I was commissioned in the U.S. Navy from the University of San Diego Naval ROTC with a Bachelor's Degree in Mathematics and qualified as a Naval Flight Officer. I earned a Master's Degree in Strategic Studies at the Air War College.

My operational duties involved flying in the E-2C Hawkeye early warning aircraft. I was combat deployed six times around the world for Operations DESERT SHIELD, DESERT STORM, DECISIVE ENDEAVOR, SOUTHERN WATCH, ENDURING FREEDOM, and IRAQI FREEDOM. Command assignments include; Training Squadron FOUR (VT-4) at NAS Pensacola, Fleet Coordinating Group in Japan, and Naval Reserve Officer Training Corps Unit (NROTCU) Houston Consortium. Instructor assignments include; Carrier Airborne Early Warning Squadron ONE TWENTY, Hawkeye Weapons and Tactics Unit Pacific, Military Professor of Strategy at the Naval War College, and Professor of Naval Science at Rice University and Prairie View A&M University.

I retired from the Navy after 30 years, having flown over 3500 hours in 5 variants of E-2C and jet aircraft with 500 aircraft carrier arrested landings. My wife is a substitute teacher with Katy ISD, and we have two daughters.
CAPTAIN C'S SCHEDULE

1st Period (7:30-8:20)–NJROTC II-III

2nd Period (8:25-9:15)–NJROTC II-III

3rd Period (9:20-10:15)–NJROTC II-III

4th Period (10:20-11:10)–NJROTC II-III

5th Period (11:15-12:05)-Conference

I Lunch (12:05-12:55)

6th Period (1:00-1:50)–NJROTC II-III

7th Period (1:55-2:45)–NJROTC IV
CAPTAIN C'S TUTORIAL SCHEDULE

Monday 7:00-7:25

Tuesday 12:05-12:30

Wednesday 7:00-7:25

Thursday 7:00-7:25

Friday 7:00-7:25

AFTERSCHOOL PRACTICE SCHEDULE

Monday: 3:00-4:00 (PT)

Tuesday: 3:00-5:00 (Drill / Color Guard)

Wednesday: 3:00-5:00 (Academics / PT)

Thursday: 3:00-5:00 (Drill / Color Guard)