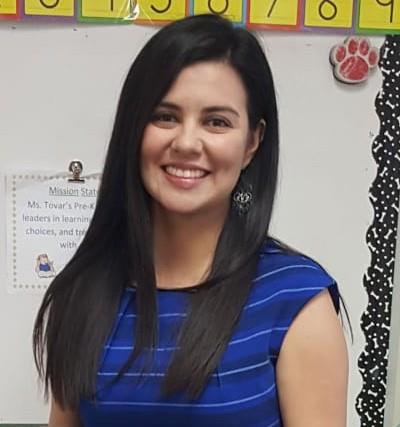 Phone:
Email:
Degrees and Certifications:
Miss

Blanca Tovar
Miss Tovar is the Pre-k bilingual teacher at Mary Austin Holley Elementary. She graduated with a Bachelor's degree of Science in Interdisciplinary Studies from Texas A&M University-Corpus Christi. She has taught a range of grade levels from Pre-K up to 3rd grade. Currently she is teaching Pre-K for bilingual students.
La Srta. Tovar es la maestra bilingue de Pre-Kinder en la escuela de Mary Austin Holley. Graduo con una licenciatura de la Universidad de Texas A&M-Corpus Christi. Ha ensenado a estudiantes de diferentes edades entre Pre-kinder y el Tercer grado. Actualmente ensena la clase de Prekinder para estudiantes bilingues.
8:00-8:15 Arrival/Bienvenida

8:15-8:30 Calendar and movement/Calendario y movimiento

8:30-8:45 Read Aloud/Lectura en voz alta

8:45-9:45 Integrated Rotations/Rotaciones integradas

9:45-10:15 RECESS/RECREO

10:15-10:45 LUNCH/ALMUERZO

10:45-11:05 Restroom and handwashing/Bano y limpieza

11:05-11:35 Science/ELLD/ Ciencia en ingles

11:35-12:20 OUTCLASS/Clases extracurriculas

12:20-12:45 Snack/Merienda

12:45-1:30 Rest and relaxation/Descanso y relajamiento

1:30-1:45 Music and Movement/Musica y movimiento

1:45-2:00 Restroom and handwashing/Bano y limpieza

2:00-2:30 Read Aloud/Lectura en voz alta

2:30-3:00 Centros/Centers

3:00-3:10 Restroom and handwashing/Bano y limpieza

3:10-3:25 Dismissal/Despedida
Tutorials: In class as needed