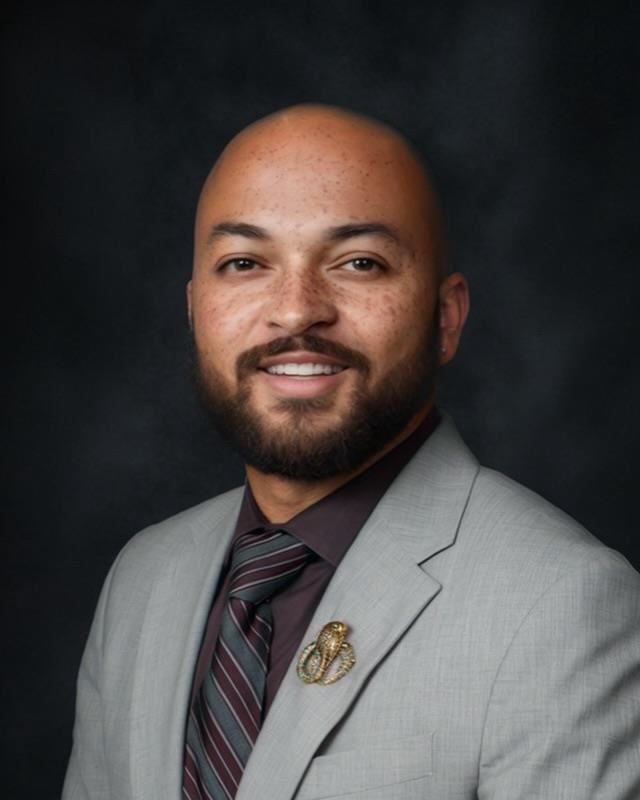 Phone: (281) 634-5240
Email:
Degrees and Certifications:
Bachelor of Science in Biology Prairie View A&M University Master of Education in Curriculum & Instruction Texas Southern University Doctor of Pharmacy (PharmD) Texas Southern University College of Pharmacy Science Composite Grades 8-12 Texas State Board of Education Registered Pharmacist Texas State Board of Pharmacy Awards & Recognition: Black Excellence in Science & Mathematics Howard University Above & Beyond Teacher Award Glenda Dawson High School Teacher of the Year Thurgood Marshall High School Research Project: The Implementation of Team Based Learning in the Pharmacy Curriculum
Dr.

Anthony D. Ford Hayes

Greetings! My name is Dr. Anthony Dewayne Ford Hayes. I am your child's Dual-Credit Human Anatomy & Physiology and General Biology Professor at L.V. Hightower High School with Houston Community College for the 2020-21 academic year. This current academic year marks my fourteenth year as an educating practitioner. This is my fourth year as an educating practitioner with Fort Bend Independent School District and my first year at L.V. Hightower High School.

I completed my internship and clinical rotations as a Clinical Pharmacist with Harris Health System: Ben Taub General Hospital and Martin Luther King, Jr. Community Health Center, and I currently practice as a Hospital Pharmacist with OakBend Medical Center in Richmond, Texas. I also have the pleasure of educating, advising, and preparing the future scientists of Prairie View A&M University, by serving as a Biology Professor in the College of Arts & Sciences.

As an educator, I've utilized and fostered various best practices when researching urban and suburban public schools, as well as institutions of higher learning. Throughout my professional public school experiences, I have applied many aspects of teaching and instructional strategies, such as: differentiating and individualizing instruction, vertically aligning curricula according to national standards, working with instructional technology, and analyzing test data.

I pride myself on creating a classroom environment that accommodates the individual needs of my students while still promoting a high level of critical thought and scientific writing skills. Some of my most satisfying experiences as an educator have come from helping struggling students to grasp difficult concepts, through a combination of individual conferences, class activities, and group discussion.
Period 1: Human Anatomy & Physiology (BIOL 2301)

Period 2: Human Anatomy & Physiology (BIOL 2301)

Period 3: Human Anatomy & Physiology (BIOL 2301)

Period 4: Conference Period

Period 5: General Biology (BIOL 1306)

Period 6: Human Anatomy & Physiology (BIOL 2301)

Period 7: General Biology (BIOL 1306)

Period 8: General Biology (BIOL 1306)
Tutorials:

Hayes' Anatomy Tutorials - 1st Period (Mondays and Wednesdays 2:30 pm - 3:00 pm)

Hayes' Anatomy Tutorials - 2nd Period (Mondays and Wednesdays 3:00 pm - 3:30 pm)

Hayes' Anatomy Tutorials - 3rd Period (Mondays and Wednesdays 3:30 pm - 4:00 pm)

Hayes' Biology Tutorials - 5th Period (Tuesdays and Thursdays 2:30 pm - 3:00 pm)

Hayes' Anatomy Tutorials - 6th Period (Tuesdays and Thursdays 3:00 pm - 3:30 pm)

Hayes' Biology Tutorials - 7th & 8th Periods (Tuesdays and Thursdays 3:30 pm - 4:00 pm)