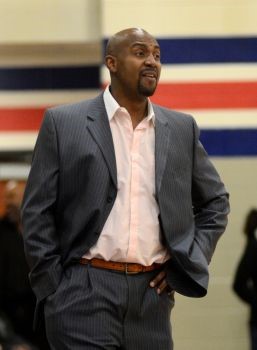 Phone: 281-634-6810
Email:
Degrees and Certifications:
Bradley University B.S. Special Education
James Bailey

James Bailey completed his 16th year as a High School Head Basketball Coach in 2020. Athletic Director, Rodney Chant scored a slam-dunk luring the seasoned veteran to Fort Bend ISD from an abundance of high school and collegiate suitors. Coach Bailey makes his home on Buffalo Run, bringing with him numerous basketball accolades accomplished both as a Coach and Player.

The '19-'20 edition of the "Running Buffs" made an impressive leap into a Max Prep.com Top 25 Houston Area Ranking (amongst all classifications). The Buffs moved up a whopping 17 positions in the polls from their inital preseason ranking to finish in the top quarter of all teams in the Houston Area, our nations 4th largest city. This was an amazing accomplishment considering the Buffs leading scorer from '18-'19 missed all but the last 8 games of the season (knee injury) and other key compontents of the team were still on the gridiron and did not join the team until midway through the conference schedule.

https://www.maxpreps.com/news/NlCklzT7ZkORZ6LSi0mnwg/houston-boys-basketball-coaches-poll.htm.

James Bailey's basketball resume includes coaching experiences with the NBA D-League and Boise State University. He has also worked camps at Duke University, University of Texas, Texas A&M, University of New Mexico, Bradley, Rice and John Lucas Enterprises. His peers elected him as the President of the Houston Area Basketball Coaches Association in 2006. The organization includes the cities High School, College and Professional Team Coaches.

James has 28 years of over all coaching experience. His tenure has seen him as an Associate Head Coach at Bellaire High School, Special Assistant at Dekaney High School and Assistant Coach at Willowridge, Kempner and Furr High Schools. His years as an Assistant Coach saw Willowridge obtain it's inaugural Class 5A State Championship (Top 5 National Ranking), Dekaney reach the Regional Semifinals (Top 10 State Ranking) and Bellaire capture a District title and play off birth (Top 20 State Ranking). Through these experiences, James was well prepared to take on the roll of Head Coach and slide one seat to the left.

In his 16 years as a High School Head Coach, Bailey's teams have average over 21.2 wins per season. His current record as a Head Coach is an empressive 339-162. James took Kemper High School from conference doormats to the #15th ranked team in Houston in his inaugural season as a Head Coach. His Willowridge teams won Bi-District and Area Championships. Willowridge also participated in Regional play-off rounds and won National Invitational tournaments under Coach Bailey as they frequented the state of Texas' top 20 rankings. Summer Creek bolted into a TABC Top 20 State Ranking in its inaugural 6A season, Bailey"s first season at the helm. Summer Creek"s production of college level players also went from 0 to 8 in 3 years under James Bailey's tutorage. While at Fort Bend Marshall James' teams have made several apprearances in the Texas Association of Basketball Coaches Top 25 State Rankings.

Coach Bailey's experience in powerhouse basketball programs has allowed him to work with more than 200 college athletes. He also has been directly connected to training and coaching dozens of Division I college prospects. Some of those prospects include Ansu Sesay, Cody Augustus, Julius Cheeks and Brandon Johnson (Willowridge) and Sheldon McCellan (Bellaire). Several of his young proteges are currently making their marks at colleges all over America.

With the NBA Development league, James served as a Head Coach in the leagues National Try-Outs held in Houston, Texas. He received recognition as his teams went undefeated through out the event and spawned several D-League draft candidates. As a result of his previous performance, James was been offered opportunities to continue to work the D- League National Tryouts and NBA Summer League in Las Vegas, Nevada.

James served as an Assistant Head Coach on Greg Graham's staff at Boise State University 2008-2010. During his tenure at BSU he was instrumental in Boise's success both on an off of the court. James served as one of the programs top recruiters along with running BSU's Player Development Program. His other responsibilities included leading Boise State's Community Service Initiative, coordinating team academics, Little Broncos Program Director and Bronco Basketball Camp Administrator.

Nationally recognized as an expert in player development amongst his peers and colleagues, James was instrumental in luring and retaining several key recruits to the Boise State Men's Basketball Team. Bailey also placed Boise State in the lead positon for the services of 2 future NBA players, Eric Moreland of the Indiana Pacers and Andre Roberson of the OKC Thunder, before his departure in 2010.

Several of the Student-Athletes recruited or coached by Coach Bailey have gone on to successful professional basketball careers. James Bailey direct influence on the court has allowed his players to cover the globe with their athletic endeavors from the NBA to the "A" Leagues in the countries of Argentina, Austria, Australia, Belgium, Estonia, Finland, France, Germany, Holland, Hungary, Mexico, Slovenia, Spain, Sweden, Uruguay and the USA. Names in that list of players include Ansu Sesay, Ike Okoye, Robert "Reggie" Arnold, Kurt Cunningham, Mark Sanchez, Aaron Garner, Brandon Johnson, Kodi Augustus, Deaquon Montreal, Zack Moritz and LaShard Anderson.

When asked to summarize his coaching style and influences, Coach Bailey describes himself. " My coaching style is a gumbo of all of my basketball experiences as a player and coach combined with the influence of all of my coaches from high school, through my professional basketball experiences, seasoned with sprinkles that I have learned from other successful people in all professions and walks of life. Though I have had a chance to sit down and go one on one with Coach K and some of the elite basketball minds, my biggest influences came from those whom I was with in the basketball trenches."

When asked who those people were James rattled off an impressive list of seasoned basketball coaches from NBA to High School basketball. " I have been fortunate to have a rich basketball experience in reference to the coaching I have received. My college coaches all had NBA experience and varying basketball styles and views. Stan Albeck was an offensive influenced coach who had been the Head Coach for the Chicago Bulls. San Antonio Spurs and New Jerseys in addition to the #8 nationally ranked Bradley Braves. He had unleashed the scoring prowess of Michael Jordan, George Gervin and Hersey Hawkins respectively. Ron Adams, the mind behind the Fresno State Match Up Zone and UNLV's Ameoba Defense in the late 80's and early 90's has gone on to be one of the top defensive coaches in the NBA with the Chicago Bulls, Boston Celtics and Golden State Warriors. My high school coach, Gary Nichols served as a tremendous role model and mentor. He challenged me to be great. Those are my top 3 guys but along the way I have learned from and borrowed techniques from coach on all levels including 'Bitty Ball,' " as he smiles sheepishly. He went on to mention John Lucas (San Antonio Spurs, Philadelphia 76ers, Cleveland Cavaliers), Dirk Bauermann (Head Coach of the German and Polish National Teams), Walt Perryman (Utah Jazz Player Personnel), Bobby Castagna (Utah Jazz Scout), Marty Gillespie (Milwaukee Bucks Scout), Ritchie McKay (Head Coach New Mexico, Colorado State, Liberty and Virginia Associate Head Coach), Mo McHone (San Antonio Spurs Head Coach, Current Chinese International Scout) as direct influences.

James Bailey was also a decorated and celebrated athlete. Bradley Assistant Coach Marty Gillespie dub James "The Silent Assassin" for his quiet, calm and serious demeanor. "JB was the ultimate mismatch," described Stan Albeck. "He shot the ball with consistency out to the 35 foot mark and handled the ball with a precision only afforded point guards. He had a 40" measured vertical leap, squatted north of 600lbs. and bench pressed 350lbs. He excelled at shooting guard and small forward but could play all five positions when asked. James was too big and strong for 99% of most guards and too quick and agile for all centers and power forwards. He was a hybrid player before the term existed."

At Bradley University, the National Association of Academic Advisers for Athletics honored James in 1992 as one of the top 10 athletes in the nation. This honor ranked high in prestige because it included athletes in all Division I sports including football. The coaches of the Missouri Valley conference voted James as the 1990 Preseason New Comer of the Year. James added MVC All-Academic 1st Team in 1991 and 1992 to his long list of honors. Following graduation from Bradley, James went on to what he describes as 'Paid Vacation.' After signing a contract with Geneva Basket of Switzerland, JB played basketball internationally in Central America, South America, Mexico and the Caribbean.

James Bailey had his high school jersey retired and hang in the rafters at Willowridge High School in 2006. James was also inducted into the WHS Hall of Fame. These achievements honored his career at Willowridge where he became the schools first College Basketball Division 1 Signee and starter at Fresno State University. Baileys career achievements included 1531 points, 1075 rebounds, 413 blocked shots and 327 steals, James was named to the Texas All-State team. He also was unanimously named to the All Greater Houston 1st team by both the Houston Chronicle and Houston Post. In an era when there was no AAU, James was named MVP of Houston's Prestigious Jay Parker BCI League, which included All Americans LaBradford Smith and Johnny Pittman.

When asked his greatest experience in basketball, James describes it. "Developing life long bonds with our players and watching their maturation and growth. That ranks right up there with looking in the stands and seeing my wife and kids cheering our team on and the experience of coaching my older son, James. Those moments are priceless." James Bailey's family includes his wife Erin, sons James and Jameson and daughter, Jas.
Period 1:Health F2F

Period 2: Online PE

Period 3: Online PE

Period 4 Online PE

Period 5:Online Health

Period 6:Online PE

Period 7:Conference

Period 8: Office Hours
Tutorial 1:

Tutorial 2:

Tutorial 3:

Tutorial 4: