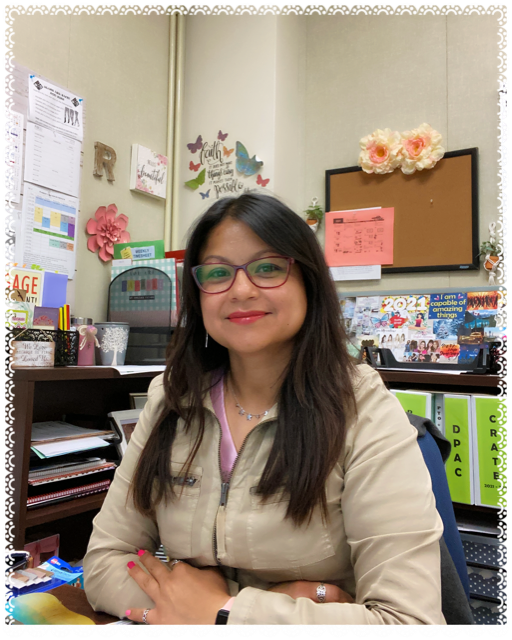 Phone:
Email:
Degrees and Certifications:
Fanni Rodriguez

Hello!

My name is Fanni Rodriguez and I am the Parent Educator here at MGE. I am originally from Mexico, but move to Texas in June of 2000. I obtain my bachelor degree of Journalism/Communications from University of Mexico. Prior to Mission Glen Elementary, I have 9 years of experience working in schools and 5 years working as a newspaper repoter, Radio and TV copywriter and commercial talent. My purpose as a Parent Educator is provide and equip MGE families and community members with vital information, educational tools and resources to build strong families through the classes and programs that I present at the Parent Center. Helping parents and families to become more effectively engaged in the education and lives of their children, has been an amazing experience for me.

The Parent Center provides parents/guardians support in:

Technology - Computer Classes and Virtual Learning Assistance.

Life Skills - Basic English Classes, Parenting Workshops, Transition to Kinder and Middle School, Practical Parent Education and School Events.

Health and Wellness - Fitness Class, Stress Management and Healthy Lifestyle

You can also view my newsletter for upcoming school events, activities, and the free learning opportinities for parents by simply selecting the tabs on the left on this page. I am extremely honor to have the opportunity to be your MGE Parent Educator. I am available Monday to Friday from 8:00 a.m. to 3:30 p.m. at 281-327-5130, and via email at fanni.rodriguez@fortbendisd.com

I'll see you soon!

¡Hola!

Mi nombre es Fanni Rodriguez y soy la Educadora de Padres de MGE. Nací en México y he vivido en Texas desde Junio del 2000. Me gradué en la licenciatura de Ciencias de la Comunicación en la Univerdidad Mexicana. Tengo aproximadamente 9 años de experiencia trabajando en escuelas y 5 años ejerciendo mi carrera como reportera de un periódico local, redactora de textos publicitarios de radio y televison y talento en comerciales. Mi propósito como Educadora de Padres es proporcionar y/o equipar a las familias de MGE y a los miembros de la comunidad con información de vital importancia, herramientas educativas y recursos para construir familias sólidas a través de las clases y programas que presento en el Centro de Padres. Es para mi una increíble experiencia el poder ayudar a los padres y las familias a participar de manera más eficaz en la educación y la vida de sus hijos.

En el Centro de Padres podrá encontrar:

Technología - Clases de Computación y asistencia para el aprendizaje virtual

Enseñanzas de la vida diaria - Clases de Ingles Básico, talleres sobre la crianza, actividades de transición al Kínder y a la Secundaria y Educación Practica para Padres

Programa de Alfabetización: Familias Leyendo Diariamente "FRED" por sus siglas en Inglés

Salud y Bienestar: Clase de ejercicio, manejo del estrés, consejos para un estilo de vida saludable

Tambien puede encontrar el Bolentin Informativo del Centro de Padres (Newsletter), en donde encontrara los próximos eventos escolares, actividades y oportunidades de aprendizaje gratuitas para adultos, solo tiene que seleccionar una de las pestañas a la izquierda de esta página. Es un gran honor para mí, tener la oportunidad de ser la Educadora de Padres de MGE. Estoy disponible de lunes a viernes de 8:00 a.m. a 3:30 p.m. al 281-327-5130 y por correo electrónico a fanni.rodriguez@fortbendisd.com

¡Nos vemos pronto!